Control Your Christmas Crazy
Jill Savage

CEO, Hearts at Home

2012

18 Dec

COMMENTS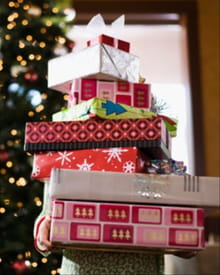 Jamie attended a Hearts at Home conference for the first time and wrote a blog post afterward reflecting on her time spent with other moms. She realized she is in desperate need to "control her crazy." She's also understanding she has to do something about her skewed expectations. She shared these feelings with a group of moms, "I am definitely a mom who feels crazy on a daily basis. Crazy because of all of the plates I'm trying to juggle. Crazy because I feel like I should have a healthy, warm, hearty dinner on the table and instead my kids are eating peanut butter and jelly—again. And while it doesn't make my crazy go away, it definitely helps me to control my crazy when I realize that almost all of the moms I know are feeling the exact same way.
She continued by sharing a consensus she and her friends came to, "…all our crazy really boils down to skewed expectations. In our minds, we have created certain ideals—those "shoulds" of life so to speak—and when those expectations aren't met, our crazy spirals."
I think Jamie has hit the nail on the head when she talks about skewed expectations. I also think her conclusions are particularly helpful for navigating the holiday season. Our unrealistic expectations cause our "Christmas Crazy!" Most of the time, those expectations are unrealistic and not congruent with the realities of life.
With the holiday season upon us, I don't believe we need to lower our expectations. I believe we need change our expectations. Lowering expectations seems to indicate that we're "settling" for something less. Changing expectations indicates a need to transform or modify our thinking. More often than not, we need to change unrealistic expectations to realistic expectations.
What does this look like in real life? Maybe I'd love to make all twelve of our favorite holiday cookies (unrealistic), but I choose to make just three kinds instead (realistic). Instead of putting up all of our Christmas decorations (unrealistic), I might only pull out half of them (realistic).
When we shift our hopes and desires for what this holiday season will look like to the realm of reality, we'll be less often disappointed in ourselves and others. As we move from idealism to realism, we control our crazy. Then we can actually enjoy this Christmas season to the fullest!
Jill Savage (www.jillsavage.org) is the founder and CEO of Hearts at Home, an organization for moms. She is the author of 9 books including the upcoming release No More Perfect Moms. As a wife to Mark, and "mom" to five kids, Jill has learned that changing expectations is an important key to finding a sense of peace in the midst of the chaos of everyday life.
Publication date: December 18, 2012
Check out our Christmas Facebook page!