The Impact of a Home Filled with Kindness
Sandy Coughlin

Author of "The Reluctant Entertainer"

2012

15 Feb

COMMENTS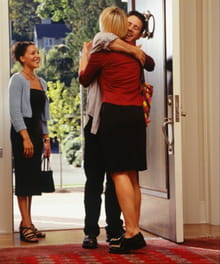 Hospitality in our home is usually centered on food. With a very busy life, that seems to be the best situation for connecting with people – around a meal.
But even if it's just a glass of water, or an evening with dessert – with our without a full meal – we've found that cherished time with friends is just about being together.
You can take our house away, our garden, pool or yard. We are still who we are – our family unit revolves around who we are as individuals and not around what we have.
I read this Mother Theresa quote awhile back: Kindness has converted more people than zeal, science, or eloquence. Around that same time I was able to meet with a new, very special family who popped in one night for a visit. They were on their way to California to stay for a few weeks, where they were part of a "house swap."
As we talked and got to know this precious family, something clicked. We connected with these strangers as we opened up our lives and became real with them. We showed love, concern and interest in each other's lives!
Later I received an email from this friend, who shared with me that although the home they were staying in was quite lovely, it was rather cold and sterile. She shared with me:
… there are many warm and open people and your family definitely fits into that. This house may rock but it certainly doesn't have much soul from what we are feeling. Your house dripped of soul and kindness …
These words have stuck in my head for a month now. When we meet strangers and show hospitality, how do we come across to them? And what is the essence of our home? Does it drip with soul and kindness?

I don't know about you, but this is challenging to me. As Eugene Peterson says in The Message's Phil 4:15, "Provide people with a glimpse of good living and of the living God."
Good living to me is about loving God and people. It's as simple as that.

What does it mean to you?
Sandy Coughlin is a wife and mom of three teenagers, and is the voice behind Reluctant Entertainer, a hospitality blog dedicated to helping people in search of a lifestyle that says, "I can do this!". Her book, The Reluctant Entertainer, is available in bookstores or online, which helps women get past their entertaining fears. Visit Sandy's blog at ReluctantEntertainer.com for more information.

The Reluctant Entertainer: Every Woman's Guide to Simple and Gracious Hospitality

by Sandy Coughlin

Copyright © 2010; ISBN 9780764207501

Published by

Bethany House Publishers