You Take the Cake: Wedding Prep a Chance for Mom-Daughter Bonding

Should you ever decide to help your daughter bake her own wedding cake, the first thing you should know is that a deluxe Scrabble board on a swivel stand will not spin while holding the weight of a four-layer 12-inch cake. No, not even if you center it on a triple-word-score.
The second thing you should know is how to deactivate the alarm system of your neighbor's house before the police get there. That's right -- the same neighbor who said you were free to use her oven, to just let yourself in.
I'm sure these kinds of things happen to professional bakers all the time. You know, they find themselves standing on a chair to get a better angle at trimming a cake, then go ballistic because they think they saw a gnat by the bananas.

Or – and this is one I'm sure happens a lot – one person is leveling the cake top with an electric knife and that person's mother is slowly turning the cake table, simultaneously lifting the dome part of the cake upward, when the one wielding the electric knife suddenly cuts up from beneath the dome and NEARLY CUTS OFF HER MOTHER'S FINGERS!

"Why, yes, we had a lovely time making the wedding cake together. What's that? These stubs on my right hand? Oh, they're nothing really. All in a day's cake."

Someone suggested we watch the television show "Ace of Cakes" before embarking on this endeavor. I told the girls that I had seen the show once and it was totally irrelevant to what we are doing.

"Those people are beyond professionals," I said. "They are confectionary ar-teests! They could do Mt. Rushmore in cake at full scale. What we are doing is basic," I said. "No, it's below basic. What we are doing is Cake for Dummies."

When we announced our intent to bake a wedding cake to serve 300, family and friends offered enthusiastic and warm support, saying, "You must be out of your minds."

Why wouldn't we hole up in the kitchen for two days to grease and flour pans, mix batter, cut cakes, fill them, crumb coat them, and double and triple wrap them for the freezer?

The kitchen is where we have talked about clothes and curfew and coming of age. Where they have learned that variety is the spice of life, to keep trying new things. That cooking mistakes are among the few you don't have to live with – use the garbage disposal. That simple can be elegant and fresh is best. That half-baked is never good, be it recipes, ideas or people.

The kitchen was the place she stood late at night in December and announced that she knew for certain and with perfect peace that he was the one.

Friends popped in during our two-day undertaking, asking, had there had been any tensions, fighting or crying.
In "A League of Their Own," Tome Hanks said, 'There's no crying in baseball!" Well, there's no crying in cake-baking either.

Forty-one cake mixes, 9 pounds of butter, 14 dozen eggs, 32 cups of raspberry filling, this wedding cake will be a symbolic token of the bride and groom's first shared meal, a taste of the sweetness that lies ahead.


---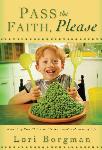 Columnist and speaker Lori Borgman is the author of several books including Pass the Faith, Please (Waterbrook Press) and All Stressed Up and No Place to Go (Emmis Books). Comments may be sent to her at lori@loriborgman.com.