Is now a time to try something new - perhaps something you've never done before? Or should you sit out the "recession" and wait until "things get better."
"The times when everyone is confused and stunned can present an enormous opportunity because no one's really doing anything," says Dell Computer founder Michael Dell. "I think this is the time when the seeds of really successful new businesses will be created."
Designer Kenneth Cole says, "When things are going well, people want to do what's working and more of it. It's only in difficult times that people are open to creative alternatives."
Mark Cuban, entrepreneur and owner of the Dallas Mavericks, points out that some of the greatest businesses were built in recessionary times. "Money is easy to find in boom times, which leads to far too many businesses getting out of the gate that don't deserve to be started. When money is scarce, better ideas face less competition and better execution can lead to greater success."
Whether it's changing career paths or starting your own business, there's never been a more opportune time than today. July 1st marks the beginning of the second half of 2010. And what better time to claim your "independence" than on July 4th. Recognize you are in the driver's seat, break ties with the mother country if necessary and begin your personal revolution.
And remember, "things" get better when you get better.
July 8, 2010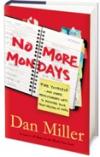 Dan Miller is today's leading authority and personality on careers and 'Work You LoveTM'. As bestselling author of 48 Days To The Work You Love, and now No More Mondays, Dan reaches over a million people every month in his newsletter, podcast, and blog with the best trends and opportunities in the workplace and small business. For more information, visit http://www.48days.com.