I have been dumbfounded recently by running into several long-time acquaintances who are down on their luck. These are guys who were used to first class all the way – restaurants, cars, private flights, yachts and houses. And now they have been dealing with selling clothes on eBay to pay the apartment rent, parking the car because gas is too expensive, and eating at McDonalds.
My assumption has always been that if someone has never gotten off the ground they may not know how. But once someone is "up" they can bounce back again quickly even if a real estate swing or bad investment strategy caught them unprepared.
But why would a guy like that get trapped in a "down" position and seem to stay there?
I began researching, asking and studying to see if there were any common factors. I pulled a 2007 John Maxwell book off my shelf and read it again – Talent is Never Enough. John says "a person's talent allows them to stand out, but their wrong choices make them sit down". I was reminded how character, integrity, relationships and responsibility are the pillars that allow talent to shine. And without those the shining talent is very vulnerable.
I grieve for my friends who are down and am harshly reminded myself of the importance of not leaning too strongly on talent in my own life. Unless I'm making deposits of success in character, integrity and relationships, I could find myself holding a tin cup full of pencils.
How much of a factor has "talent" been to your success?
Disclaimer – Please, please don't assume I'm implying everyone who is down is lacking in character and integrity. There are many reasons for positions at any given time. I've just been researching to find ways to be more helpful as a friend.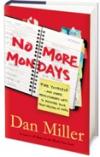 Dan Miller is today's leading authority and personality on careers and 'Work You LoveTM'. As bestselling author of 48 Days To The Work You Love, and now No More Mondays, Dan reaches over a million people every month in his newsletter, podcast, and blog with the best trends and opportunities in the workplace and small business. For more information, visit http://www.48days.com.