We All Need Somebody to Lean On
Dan Miller

48Days.com

2008

15 May

COMMENTS

Remember this great old song from the 70s? When I was in graduate school studying psychology, my classmates and I decided to have this as our theme song. We committed to encouraging each other and the people we saw as clients.
One of our primary needs as human beings is to feel the support of those around us. Ideally, that will mean we are nurtured and encouraged by our nuclear family first and then by an ever-widening circle of relatives, friends, teachers, etc. Without that support, we tend to be less and less willing to try new things or to go down non-traditional paths. Too frequently the gifted artist does not hear, "I really think you can do it" but rather, "You know artists don't make any money" or something to that effect. The guy with a critical wife stays in a job where he is "underemployed" because he doesn't feel the freedom to stretch his wings. An employee who is punished for making a mistake will ultimately do the very least to maintain her job, not willing to risk the disapproval again.
Not having someone to lean on, adding other's fear to his own, the next Bill Gates or Thomas Edison settles into the twilight world of could-have-beens and regrets. Without encouragement during the many falls, a baby would never learn to walk. I fear that the current environment of isolation, where we no longer have sidewalks and community churches, has crippled the creativity of this generation. Lack of support leads to minimal effectiveness. That's why one of the critical characteristics of very successful people is that they spend time with people who are performing at the level at which they want to perform. Find those people in your own life and watch your success soar.
No wonder the ongoing popularity of the 1972 song, "Lean on Me." Here's the chorus:
Lean on me, when you're not strong
And I'll be your friend, I'll help you carry on
For, it won't be long
Til I'm gonna need somebody to lean on.
And for a group to encourage your new ideas, check out our 212ºConnection.com. You'll find a growing group of people who are getting encouragement to pursue their unique dream.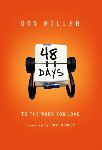 ---
Dan Miller
is President of The Business Source, founder of "48 Days" and author of
48 Days To The Work You Love,
48 Days To Creative Income
and
the recently released
No More Mondays.
He is the growing authority for creating effective life plans that are achieved by integrating natural gifts, unique personality traits and one's own values and passions. His unique clarification of how God gifts us will introduce you to a new sense of freedom and fulfillment of your life's calling. For more information, visit
http://www.48days.com/
.