Avoid debt before it happens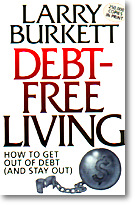 Usually a lack of thorough planning leads a person into debt. Without some kind of financial plan (a budget), most people don't realize they have a problem until it overwhelms them. Three of the most common ways to get into debt are the purchase of a home, the purchase of a new car, and unscheduled disasters.
Before these traps can snare you, consider the following:
Nearly everyone dreams of owning their own home. Many young people try to buy a home too soon, or pay too much, and end up in financial trouble. The percentage of an average family's budget that should be spent on a house payment is no more than 25% of net spendable income (after tithes and taxes). Add to the mortgage payments the cost of utilities, insurance, maintenance, and incidentals, and the percentage climbs to around 35%. Don't go over this percentage.
If you wreck your budget to get into a home, that makes no sense at all. Better to save for a down payment of at least 20% and buy a smaller, less expensive home initially. The purchase should never be based on combined incomes (for couples), for if one income fails the entire purchase will be jeopardy.
Someone who can't qualify to buy a home often springs for a new car as a compromise. It's not a good choice with the high cost and short life of most cars. Many people are so prone to debt-buying that they don't even ask the price of a car - just the monthly payments. The automotive industry understands this mentality. Low interest rates are often the biggest selling feature. Consider that the re-sale of a car is minimal compared to the investment.
Consider purchasing a good used car, one or two years old. The major depreciation has already taken place, and usually the bugs in the car have been discovered and fixed.
Plan for predictable expenses. Include this in your budget. Predictable expenses include car repairs, career clothing, or medical expenses. Then, when the inevitable happens, you will be prepared and not have to resort to the use of credit cards or loans to cover their cost. Don't forget to budget for vacations, too.
Don't assume that it's OK to be in debt. There is an alternative.
From Debt-Free Living: How to Get out of Debt (And Stay Out) by Larry Burkett. Copyright (c) 1989 by Christian Financial Concepts. Used by permission of Moody Press, Chicago, Ill., 1-800-678-6928.
Larry Burkett is founder and president of Christian Financial Concepts, a nonprofit, nondenominational ministry that provides personal counseling and instructs individuals through nationwide seminars. He holds degrees in marketing and finance and hosts two radio programs, heard on 1,100 radio outlets, and has written more than 40 books, including The Coming Economic Earthquake, Debt-Free Living, Women Leaving the Workplace, and the novels The Illuminati and The THOR Conspiracy. He and his wife, Judy, live in Gainesville, Ga., and have four grown children and nine grandchildren.For more information on the ministry of Christian Financial Concepts call: 1-800-722-1976 or write: Christian Financial Concepts, P.O. Box 2458, Gainesville, GA 30503-2458.