How To Save On Your Phone Bill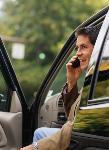 One of the life strategies I teach in the No Debt No Sweat! Christian Money Management Seminar that present in churches nationwide, is the need to always keep a keen eye on expenses. It is extremely easy to let the "little things" get out of control and wreck or financial lives.
The average American spends a huge amount of his life glued to a phone. What a bargain! Imagine being able to talk with anyone anywhere instantly! For most of the 5000 years of recorded human history this was an impossible dream. Families waited weeks and even months to hear from loved ones. Business depended on couriers rushing memos back and forth for all contact.
Arguably, the telephone is one of the best investments we can make. But that doesn't mean there aren't ways to make it even most cost efficient. Here are some ideas you may find helpful:
• Only buy what you use. Review your phone bill to be certain that you aren't paying for features (i.e. call waiting, caller ID, etc.) that you don't need or use.
• Sometimes long distance is cheaper on the cell phone. Some cell phone calling plans allow for free long distance calls. These can be cheaper than using the hard wire phone in your home.
• Own your own phone. In the long run, it's usually cheaper to buy your phones than to lease them.
• Schedule your long distance calls. Long distance is almost always cheaper in the evenings and on the weekends. (Ask your phone company what they consider to be evenings and weekends.)
• Plan your long distance calls. You'll save money if you pre-plan the points you want to discuss prior to calling. Also, consider using a timer.
• Consider using low-cost phone cards. We've found that sometimes phone cards are actually cheaper to use than traditional long distance service. Presently our family makes most of it's calls on a card that charges only 3.47 cents per minute.


Steve Diggs presents the No Debt No Sweat! Christian Money Management Seminar at churches and other venues nationwide. Visit Steve on the Web at www.stevediggs.com or call 615-834-3063. The author of several books, today Steve serves as a minister for the Antioch Church of Christ in Nashville. For 25 years he was President of the Franklin Group, Inc. Steve and Bonnie have four children whom they have home schooled. The family lives in Brentwood, Tennessee.


A complete financial compendium, 19 chapters
• What you can do today to get out of debt and kill the Debt Monster
• A,B,C's of handling your money God's way
• How to save, invest, and retire wisely
• How mutual funds work
• How to stop fighting over money
• What to teach your kids about money
• Learn how home & car buying, college financing and insurance work.
• How to develop a budget that works -- forever!
• Features simple charts, graphs, and easy-to-use forms.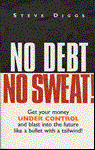 Click here to learn more or to order