Take Responsibility For Your Health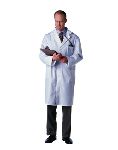 What do you want in a health plan? If you asked 10 people that question, you'd likely get 10 different answers. Yet we all really want the same thing -- a plan that doesn't cost much but completely covers whatever we need.

Let's face it: None of us are happy when our health plan doesn't fully cover all of our medical costs. But what would happen if we all got every expensive treatment or new drug we wanted? Rates would go up so high that most of us couldn't afford coverage. Healthy people would drop out, and with mostly sick people left in the system, rates would go up even more. Then, when the healthy people got sick, they would either be unable to get coverage or they would have to pay even higher rates because of their health problems.

So what can we do? First, we must look realistically at the healthcare costs that are driving up rates. Then, we all must take responsibility to do our part to control costs.

In America, we've been lulled into thinking that the prescription drug we buy or our doctor's visit really only costs $20. In reality, the actual cost of the drug may be $100 or more and the doctor's visit even more than that.

Health care is expensive. But before you point your finger at the insurance or drug company, take a look in the mirror. It's time for each of us to take responsibility and do what we can to reduce healthcare costs.

We need to:

• Speak up. Talk to your doctor. If he or she thinks you really do need the new brand name drug you saw advertised on television, go for it. But if a less expensive alternative or even the generic will work just as well, you've saved yourself some money.

• Start moving. Don't take a pill for a condition you can correct by living a healthier lifestyle. By getting healthier, you'll feel better, maybe save yourself the ongoing cost of a prescription and possibly ward off future health problems.

• Make informed decisions. If you ask questions and understand the purpose of a test or procedure, you may decide that you don't really want or need it.

Taking control takes a little effort on your part, and your efforts may seem like too little to matter. But if we all do our part, we really can make a difference. After all, a journey of a thousand miles starts with a single step.


Tamara Quintana is director of the employee wellness program for GuideStone Financial Resources of the Southern Baptist Convention.

© 2004 Baptist Press. Used with permission. All rights reserved.