Check the calendar. We're in that slow season—the lull before the storm, otherwise known as the holidays! Now is the perfect time to create food gifts from your kitchen—items that you can make now that will hold up perfectly until it's time to give them as gifts in December.
I have three amazing recipes for you that are so wonderful—so memorable— they're going to make you famous. And then watch out. People will beg to get onto your holiday gift list.
---
Some people call it a condiment, but to the salsa afficionados, it most definitely is a food. Condiment or food, most everyone on your Christmas gift list will agree that, besides giving tortilla chips a reason to exist, salsa adds fresh, invigor-ating and palate-pleasing flavor to life. Get ready for the best salsa you've ever had.
Salsa

24 pounds tomatoes
1 12-ounce can tomato paste
1/2 bunch cilantro
16 jalapeno chile peppers, stems and seeds removed
2 medium heads garlic
6 large green bell peppers, chopped
6 large onions, chopped
9 tablespoons salt
1 cup distilled white vinegar
1/2 cup brown sugar
3/4 cup cornstarch dissolved in
1/2 cup cold water

Core and peel the tomatoes. Remove the tomato seeds and pulp, add to food processor and process until pureed. Chop the outsides of the tomatoes.

In a large pot over low heat, boil the pureed tomatoes and tomato paste for 1 hour, or until the liquid is reduced by one-third.

In a food processor, puree cilantro, jalapeno, garlic and 1/2 cup of the tomato liquid from the large pot. Slowly stir this mixture into the pot.

Bring the contents of the pot to a boil while mixing in the green peppers, onions, chopped tomatoes, salt, vinegar and brown sugar. Add the cornstarch mixture to the pot. Stirring continually, boil the mixture until all the vegetables are soft, about 30 minutes. Carefully transfer to sterile containers and apply lids tightly. If you are not sure they are sealed, refrigerate. Yield: 20 pints.

---
You only say you hate fruitcake because you've never had my grand-mother's. It's white—not brown—moist and loaded with cherries, nuts and no icky green things.
My Grandmother's White Fruitcake
1 pound butter (four sticks)
3 cups sugar
6 egg yolks, beaten
2 ounces lemon extract
1/2 pound white raisins
3 tablespoons pickled peach juice*
6 egg whites, beaten
5 cups flour
1/2 teaspoon salt
1/2 pound candied cherries
1/2 pound candied pineapple
4 cups pecans (or walnuts)
1 teaspoon baking soda, dissolved in
2 tablespoons warm water

Generously grease four 9 x 5 x 3-inch loaf pans with some of the butter. Line pans with parchment and grease the paper.

In a very large mixing bowl cream the butter and sugar with an electric mixer on high until fluffy (about 5 minutes). Add beaten egg yolks and lemon extract (don't be alarmed by the amount; it's a lot and it's okay). Mix fruit, raisins and nuts with half of the flour and add to mixture. Add dissolved baking soda and peach juice, then the remaining flour. Fold in the beaten egg whites until completely incorporated.

Pour into prepared pans about 3/4 full. Place in a cold oven and bake at 250 F for 2 hours. Check for doneness. Cool in pans on cake rack. When cool, remove from pans and wrap tightly in plastic wrap and then foil. Store in a cool place or the refrigerator for 4 to 8 weeks.

*Pour a can of peaches in its own juice and the juice into a small saucepan. Add 5 whole cloves, 1 cinnamon stick and
1 teaspoon vinegar. Simmer for about 20 minutes. Strain the juice and proceed. Or substitute any tart fruit juice, rum or brandy for pickled peach juice.

Make this fruitcake right after Thanksgiving and you'll be on track for holiday gifting.

To store for a long period of time, wrap the fruitcake in brandy or wine-soaked towels, and then wrap in aluminum foil. For very long storage, bury the liquor-soaked cake in powdered sugar and place in a tightly covered tin in a cool place. Fruitcakes can be enjoyed as long as 25 years this way. I cannot imagine why you would want to do this, but it's nice to know that you can.

---
You're about to gasp, "applesauce for Christmas?" To which I say yes, but only famous Ray Guth's applesauce. And he really is. One of the original Marlboro men, Ray has enjoyed a long and prestigious career as an award-winning actor in both movies and television. Thanks, Ray!
Ray Guth's Famous Applesauce
2 pounds Granny Smith apples, cored, peeled and sliced
2 pounds Golden Delicious apples, cored, peeled and sliced
1 cup water
2 tablespoons fresh lemon juice
1/2 cup sugar
1/2 teaspoon cinnamon
1/4 teaspoon ground cardamom

Combine apples, water and lemon juice in pot. Bring to a boil and reduce heat to medium. Cover and simmer until tender, about 20 minutes. Uncover and cook until mixture becomes thick, about 10 minutes.

Remove from heat and mash apples with potato masher. Stir in sugar and spices and cool. Refrigerate. Yield: 3 pints (6 cups) of awesome applesauce.
Copyright © 2008 Mary Hunt. All rights reserved. Permission to reprint required.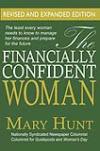 Check out Mary's recently released revised and expanded edition of The Financially Confident Woman (DPL Press, 2008).
---
Debt-Proof Living
was founded in 1992 by Mary Hunt. What began as a newsletter to encourage and empower people to break free from the bondage of consumer debt has grown into a huge community of ordinary people who have achieved remarkable success in their quest to effectively manage their money and stay out of debt. Today, "Debt-Proof Living" is read by close to 100,000 cheapskates.
Click here
to subscribe. Also, you can receive Mary's free daily e-mail "Everyday Cheapskate" by signing up at EverydayCheapskate.com.