from Day by Day with the Persecuted Church

But you will receive power when the Holy Spirit comes upon you and you will be my witnesses... (Acts 1:8)
And surely I am with you always, to the very end of the age. (Matthew 28:20)
Horacio Herrera
There are various reasons why we so often feel alone. We feel alone when we lose a loved one, or when we go through times of suffering, spiritual or physical. We feel alone when we are forgotten or feel rejected, sometimes ignored or even despised. The Lord exhorts us to hold on to Him; and He holds on to us. The disciples were saddened when Jesus went back to heaven. They felt alone, but the angel of the Lord gave them a wonderful promise, together with a great task, "This Jesus will come back."
One day, the Lord will return in glory. We will be changed into His likeness and we shall be like Him. What a day that will be, a day without end. Christians do not have a hopeless end, but an endless hope. In the meantime He will guide us by His Spirit, who lives in us and who will be with us, until we meet our Savior.
We certainly can face the future with these promises. But that is not the end. He also gives us something to do. God's promises are connected to a task; they always are. "And you shall be my witnesses." No time to sit back and spend all our time lamenting and complaining. There is work to be done. Work till He comes.
When we do so we will experience this great truth, "And surely, I am with you always, to the very end of the age."
Horacio Herrera from Cuba. Because of his leading role in the Cuban Church, he writes using a pseudonym.
Copyright [C] 1995 Open Doors International. Used by permission.
Click here to sign up for a free monthly newsletter from Open Doors about persecuted Christians.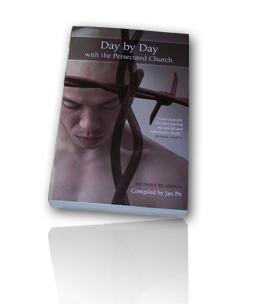 Day by Day with the Persecuted Church
compiled by Jan Pit with a forward by Brother Andrew (paperback, revised 2000)
Compelling wisdom from the pen of actual believers living amidst persecution, you'll be connected to the suffering, courage, and depth of life that exists in the harshest places in the world. Each of these 365 thought-provoking devotions will deepen your understanding of Christian persecution and provoke you to pray for our brothers and sisters with a new found depth.
To order your copy of this devotional, click