from Day by Day with the Persecuted Church

He came to a broom tree, sat down under it and prayed that he might die. (1 Kings 19:4)
Gustavo Figueroa
From the mountain of victory, to the mountain of despair. That was the experience of Elijah and often our experience as well.
"Elijah was a man just like us" (James 5:17). He had just witnessed God's power at Mount Carmel. Fire had come down from heaven in a miraculous way. Instead of repenting before God, Jezebel was furious. "May the gods deal with me ... if by this time tomorrow I do not make your (Elijah's) life like that of one of them" (the priests who died). Elijah did not fear the threats of 850 prophets of Baal and Asherah, but he feared the threat of one woman.
He was so downcast that he wanted to die. At least, that is what he said. But did he really want to die? If so, all he had to do was show himself to Jezebel. She would have loved to accommodate him.
"Elijah was a man just like us," knowing the joy of victory and experiencing the pain of defeat. But the Lord had more work for him to do. "Go back the way you came."
No time to complain. Let's get up and do what God expects us to do.
Gustavo Figueroa from Cuba. An itinerant evangelist, he writes using a pseudonym.
Copyright [C] 1995 Open Doors International. Used by permission.
Click here to sign up for a free monthly newsletter from Open Doors about persecuted Christians.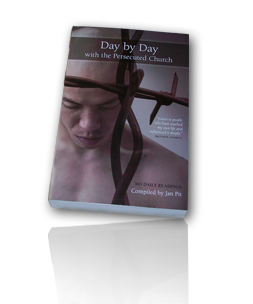 Day by Day with the Persecuted Church
compiled by Jan Pit with a forward by Brother Andrew (paperback, revised 2000)
Compelling wisdom from the pen of actual believers living amidst persecution, you'll be connected to the suffering, courage, and depth of life that exists in the harshest places in the world.  Each of these 365 thought-provoking devotions will deepen your understanding of Christian persecution and provoke you to pray for our brothers and sisters with a new found depth.
 To order your copy of this devotional, click