from Day by Day with the Persecuted Church

Now he had to go through Samaria. (John 4:4)
Samaritan Woman
Just a few words - "He had to go through Samaria." It is easy to overlook the deep meaning of these words. Jesus did not have to go through Samaria at all. True, Samaria was the short route to Galilee, but a Jew never went through Samaria. They treated Samaria like a contagious disease and always made a detour through the Jordan valley, through Judea to Galilee or vice versa.
But Jesus had to go through Samaria. That means; there was something there for Him to do. There was a person in need, a despised woman, without morals, looked down upon. Sure, it was her own fault that she had lived a promiscuous life without ever taking God into account. But her heart was empty. She longed for real peace and happiness. Jesus meets the woman at the well, about noon. Nobody ever goes to the well at that time of day, but she did. She wanted to be there before all the decent women arrived. Rather alone in the heat of day, than together with other women in the heat of their gossip.
Jesus had to go through Samaria to transform this despised woman into the first missionary to the Samaritans. She had to change inwardly first, but when that had happened she became the first witness for Christ in Samaria.
Samaritans were despised by Jews. But God is always on the lookout for the rejected. The hated "foreign" Samaritans were visited by Christ.
He had to go through Samaria. Amongst millions he notices the individual person.
"But whoever drinks the water I give him, will never thirst" (John 4:13a).
"Many of the Samaritans from that town believed in him because of the woman's testimony" (John 4:39).
Copyright [C] 1995 Open Doors International. Used by permission.
Click here to sign up for a free monthly newsletter from Open Doors about persecuted Christians.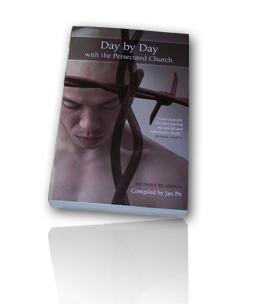 Day by Day with the Persecuted Church
compiled by Jan Pit with a forward by Brother Andrew (paperback, revised 2000)
Compelling wisdom from the pen of actual believers living amidst persecution, you'll be connected to the suffering, courage, and depth of life that exists in the harshest places in the world. Each of these 365 thought-provoking devotions will deepen your understanding of Christian persecution and provoke you to pray for our brothers and sisters with a new found depth.
To order your copy of this devotional, click