The speed with which our April
Write to the Bank
event sold out confirms that a whole lot of you would like to have a book with your name on the cover. In fact, 81% of Americans say they'd like to write a book, but only a few ever take a step towards making it happen. It's not rocket science – it's just a process.
I encourage you to approach your writing of a book as a business proposal. Too often authors write a book like many artists paint a picture, just hoping that it will get noticed or that someone will want to purchase it. I suggest that you are much more strategic about the process of writing. You are about to invest a significant amount of time and energy; thus, it's reasonable to ask yourself these ten questions:
Does writing this book align with your purpose in life?
Will it be an expression of your passion?
What is the purpose of this book? Why do you feel compelled to write it?
Who are you writing this book for? What are the characteristics of a person who will definitely want to read it?
Do you have the skills to turn this into a meaningful work?
Why are you so eager to use this form of getting my message out?
Has your message already been written? What is remarkable about your additions to that message?
Can you create income by doing this? Passion and talent are fine but by themselves do not necessarily generate income.
How does being an author fit into your overall business and career?
If you have a plan, what's stopping you from starting now?
If you can answer these questions you are well on the way to seeing it come into view.
You can still join us at the Sanctuary for Write to the Bank dates in August and September.
---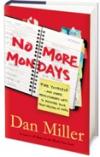 Dan Miller is today's leading authority and personality on careers and 'Work You LoveTM'. As bestselling author of 48 Days To The Work You Love, and now No More Mondays, Dan reaches over a million people every month in his newsletter, podcast, and blog with the best trends and opportunities in the workplace and small business. For more information, visit http://www.48days.com.