What's a Dove Award-winning solo artist who's had multi-platinum album sales doing competing with a group on NBC's a cappella singing series The Sing-Off?
"I would say that I'm still kind of asking myself the same question," answers Rachael Lampa, the pint-size singer with a gallon-size set of lungs who's found herself part of the series' third season which premieres Monday night, September 19.
With a judging panel featuring pop music vets Ben Folds and Sara Bareilles, as well as Shawn Stockman of R&B group Boyz II Men, The Sing-Off features sixteen a cappella singing groups who perform popular songs each week for the votes of the viewing audience. As a member of a group called The Collective, Lampa is now five weeks into the taping of the series and says she's having the time of her life. Formed by Jeremy Lister, a member of Season 2 runner-up group Street Corner Symphony, The Collective is comprised solely of Nashville-based musicians who have each had individual music-making success.
It could certainly seem like a strange career move for an established solo artist such as Lampa, who's amassed an unprecedented nine Top 10 singles (four at No. 1) and also toured with groups including Destiny's Child, Nickel Creek and Boyz II Men. But for Lampa, it's just a step back into the spotlight after some much-needed time away.
Back in 2000, the then 15 year-old was fresh on the Christian music scene, but quickly became known thanks to her monster Christian music hit "Live for You," as well as high-profile appearances on television shows including a prime performance on The Tonight Show. She was young and didn't know otherwise, so Lampa kept up the hectic pace ("write for a record, make a record, promote it, tour it, rinse and repeat") until sometime in 2006 when she decided to walk away for a bit and rediscover a simpler lifestyle.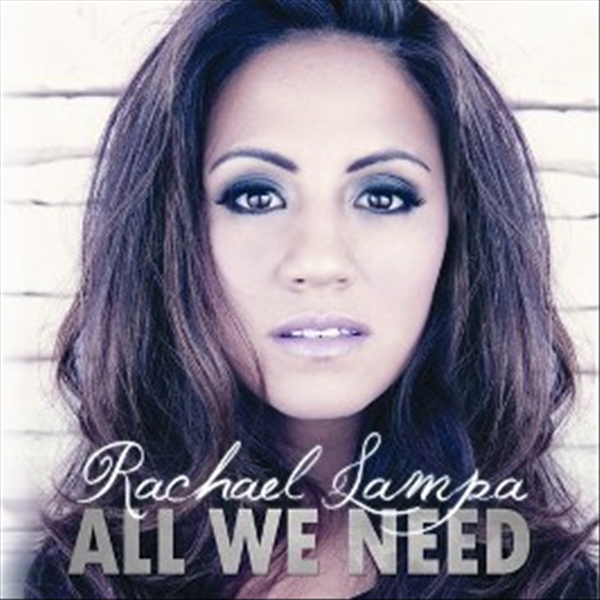 During the past five years, the singer-songwriter says she has found herself, a husband and some community. And so at the beginning of 2011, she was ready to get back at her craft. One thing led to another, and a record was quickly recorded—an "organic" process, she calls it. And then, naturally perhaps, she found herself being invited to compete with The Collective and try her hand at a little a cappella.
I spoke with Lampa recently to talk about why it was the right time to release another record (All We Need) and what it's like doing two things she's never done before: singing a cappella and singing in ensemble on NBC's The Sing-Off.

---

First off, and before we get to The Sing-Off, for fans who haven't heard from you these past five or so years what have you been up to?
Well, when I cut my last record—I guess that was 2005 or 2006—I sort of I knew that there was going to be a time where I was going to have to start the next one. And since I was 14, that was all I knew: write for a record, make a record, promote it, tour it, rinse and repeat. So I guess I was at the age where I was starting to look at that and realize that's not healthy and just that formula of feeling like I'm kind of a robot, kind of I'm just following directions. And I knew that if I started another record it just wouldn't be . . . I wasn't at a place I could really pour my heart into it. I was tired, and I just felt uninspired. This felt like a natural time to kind of close that door with Word [Records] and just start something new. So I didn't really have a plan when I did that. I just kind of said, "I can't make the next record until I feel the peace to do it." And I think you know ultimately it was one of those things where you just say, "I don't know why, but this is what God wants for me right now." So I took some years off. I continued to write through all of that just for myself really and continued to entertain the thought of doing a record, but really for the most part just spent time with my family and friends and building actual friendships that I still have now . . . which I didn't really have. I kind of jumped from tour to tour and whoever was on that tour were my friends. It was kind of the way I had designed my life. So really I just wanted to take that time to get to know my friends and my family and just spend time with them, and so that was a big chunk of that.
But also because I slowed down I was able to find a guy that would marry me. So I got married in my time off and was able to spend time on the wedding and just all those cool things that I wouldn't have had time to really sink my teeth into. I also sang background for Jordin Sparks for about seven months which was just one of those things I just wanted to say "yes" to—things that I wouldn't have had time for or wouldn't have made sense career wise. I just felt like I could walk through these open doors that God is leading me through. It was kind of this time of being able to say "yes" to things that I wasn't able to before. And then in the beginning of this year, because I had been writing I had never felt that I wouldn't make another record. I think it was at this point it was like who's the right team to come around me and help me walk in this direction, who's likeminded with my vision. And at the beginning of this year I found a group of guys called 220, that's their company, and we just sat down and it was like, "You feel this way about this and I do too" and "You guys want to be involved with me and I want to be involved with you" and "Let's do it." And they kind of came around me as my label, and we started a record and it was so organic. It happened really fast, and I think that was just a testament to how natural the progression was. We wrote a record in a couple months and now we're putting it out like nine months later. So it was fast.

How would you describe what we'll hear on All We Need?

Well musically I would say it walks the line of pop and soul kind of thing. A little bit of rock. I grew up on pop music and soul music, and so I feel like that's kind of what really comes through. And then lyrically and just subject wise I think it's such a reflection of my time off of just feeling like I've had this crazy childhood and teenage years. I've gotten to do a lot of awesome stuff and was able to see a lot of things, and all I wanted was just to simplify and to just slow down and to enjoy what was actually in front of me—my friendships and my family and little things and that's where I've gotten all my joy from in the past five years. And that's kind of what the record is. I mean "All We Need," that song just came from really just becoming a child again to God and like looking at him as my Father, and there's nothing else. Not as the person who drives my business or who I write about for my music and my record. He's just my Father. When I wrote "All We Need," it was like I just wanted to write a song that just declared that literally he is all we need. Love is all we need. That everything else will fall into place and everything else will make sense if we can just love first. So that kind of sets the tone for the record, just that title and that song. But really a lot of the songs on the record just touch on the fact that God is consistent and he's "getable." You can "get" him. He can embrace you and remind you that you're just his child, and so I wanted to grasp just that simple, childlike kind of view of God.
It sounds like you have been discovering who you are in Christ.
Absolutely. I had some major work to do with that. I had kind of sped through pretty big years of being a Christian and being a young Christian. I think also when I was travelling they were also some of the greatest forming years for me, just putting me around Christian people. I grew up in a Christian home and we went to church and we did all the right things, but I think that what we were missing was community. We didn't have a lot of Christian families or Christian friends around us so being on the road really helped with that because I was around people my age that said words like "let's pray" or "I'll pray for you" and that was a huge thing for me because I didn't have friends who said those things. Some of my best friendships I still have now are from being out on the road. Those were amazing years and great years for me to grow in my faith, and God knew that I needed that. But I think I missed some of the really simple, sweet things about God and being a Christian, and I think that's what I got to see through time off, through getting married, through just having a consistent life. Being home long enough to do certain things once a week was such a big deal to me. It was such a big thing that I knew every Monday night . . . my brothers and my sister and I had started a homeless ministry here in Nashville [Tennessee] called People Loving Nashville. We did that every Monday night, and it was so cool to be able to do that every Monday night. And so the record really does roll back to just shining a light on just the simplicity of enjoying the sweet things like that.
Does the theme of community also apply to the fact that you worked with multiple producers on this album as opposed to just one producer?

That was totally organic, beause we started it with David Garcia and we started to record songs and to write songs with other writers. And for the most part, whoever I wrote the song with produced the song. I thought that was cool. I just love how easy it all was, and I felt like I was creating these relationships with these writers and producers. And whatever made sense to do for that song, it felt like everybody was kind of just in on what was best for the project and the song.
Before your album releases this month, you're beginning to compete on The Sing-off on NBC. Undoubtedly lots of your fans are going to be wondering what in the world you're doing on this show.
It really is out of nowhere that I'm on this show! And it's not just for fans; it's for me, too. I was approached about a month before we started taping by a friend named Jeremy Lister who won second place last season on The Sing-Off with a group called Street Corner Symphony. And he called basically right before the show started. The producer went to Jeremy and said, "You know we want some more groups, some kind of different themes and different angles of groups." And so he was like, "Why don't I call a bunch of solo artists from Nashville that have never sung a cappella before?" And obviously they thought that was going to be a disaster, and I did, too [laughs]. But we all kind of just gave it a shot. Nine of us showed up in a friend's basement and gave it a shot, and we were a little rusty [but] not too rusty to make it on to the show. We just kind of recorded a little bit of it and sent it off to the producer. And they loved it. I think they just loved the fact that it was a bunch of Nashville solo artists with fan bases and names.
It's funny because it is a competition, but the whole show feels like a big camaraderie party where people are just rooting for each other. And we wanted to say that as a group, and so our group's called The Collective. We wanted to say that music is not all about competition, and we're going to go on a competition show to say we're just here to do our best and to see what happens and just do great music and share it. So yeah, we found ourselves on the show and we're trucking through it. Some weeks are easier than others. So basically we shoot a show a week, and sometimes our songs are chosen for us and sometimes they're not. And sometimes we have a little bit to do with the selection process. But really we get a new song a week, and we have to figure out how to make it into an a cappella song. It's been totally random for all of us to be in this position, but it's cool because you will be able to kind of watch our progression on the show and also they give a chance to really talk about our journey and like what we're really facing . . . the challenges we're facing and all of that. It's a cool little time for my fans and our fans and then new fans to kind of get to know our little Nashville crowd.
Did you know any of the other group members of The Collective before you were formed?

Yes. I knew a girl named Ruby Amanfu who is a part of a group called Sam & Ruby. She actually sang background on my record Kaleidoscope which was when I was 16, so like 2001 or 2002. And she's also sung on some other records of mine, so I've known her. I know Sam Brooker who's the other half of that group. And then actually everybody else was totally new to me.
So when you either choose a song during a given week or when one is chosen for your group, who decides who's going to sing what?
We actually get the song and then we kind of look around the room and kind of talk about who would fit the song the best. Whatever makes the most sense. So that was totally a new process for me to do, because you know doing a solo project it's like obviously I know who's going to be singing this. But you know it was cool because we got to like really step back and be supporting roles to each other which was really something that we hadn't had to do in the past. So yeah, you'll see kind of how we chose to push certain people in the spotlight and pull others back and everybody kind of got a little chance to shine. That was kind of a different, interesting process.
Has there been anything that's really stretched you when it comes to singing in an ensemble as opposed to singing by yourself?
For sure. You don't really ever have to think about keeping other people on track, on key. You can just go with the sound of your voice. I've always just kind of sung how I felt emotionally, and on certain days sometimes I have a raspier voice. I have to really control that and I have to really, really think about pitch and just the technical. I guess the way to say that is I think about the technical side more. I'm usually just either kind of by the seat of my pants and just hope for the best. And the band starts playing, I start singing and I hope for the best. And I think with The Sing-Off I have to really dive into my technical side and then on top of that, bring back the emotion and really feel the song, too, and communicate the song.

So yeah, there were just a few more facets. And you know sometimes when I'm not singing lead, I'm singing like these silly little syllables and words and sounds and noises that I've never done before because essentially when you're in an a cappella group, for the most part, you're making up for the band when it's not there. So sometimes you're making guitar noises, or bass noises or sounds effects and stuff. So that was really fun, but also really, really different.
How many weeks in to taping are you?

Five actually.

Can you say at this point which other group is your biggest competition?

You know it's so funny to say that, because I've been asked that question and I'm like, "Oh yeah, it's a competition," because I always forget. I wouldn't say that they're our biggest competition, but I think they're going to win because honestly we all realize that we're new at this and we don't think that we're going to do the best. We've picked who we think is going to win and it's a group called Pentatonix and they're five kids like 19, 20-year-old kids have no idea how talented they are. They're all like totally humble and sweet little angels, and then they get onstage and they're just like this thing you've never heard before. Just totally like futuristic and innovative and amazing. We love them!
After you perform, is it scary to go through the feedback time when the judges are giving their critiques?

I think on some shows it would be scary with certain judges, but these judges are so musically legitimate that you actually want to hear what they're going to say. And I guess the scary part comes in when there's a camera right in your face, and they're waiting for you to kind of have this certain reaction or make some kind of certain face. And so I think that the scary part is where you're kind of like, you're just under the microscope a little bit. But we all agree that like when [the judges] say something, they really are dead on. And actually on one of these episodes, you'll see we are kind of laughing because they're telling us exactly what we walked offstage saying. We walked offstage saying, "Okay we need to work on this, this and this," and then we get onstage and that's exactly what they say. It's almost like we respect them so much that we're not really afraid of what they're going to say. We're more eager and kind of curious about it.
Do you think that that kind of response speaks to the maturity that each of you in The Collective has because of your individual experience as solo artists?

Yeah. Maybe. I think it does have a little bit to do with it and just the fact that we've never been judged before. None of us collectively have ever really done competitions, and a lot of these groups are like college groups that they go around and compete. That's what they do. And so for us, maybe it's a little bit of naiveté. Maybe we're a little ignorant. We don't know what it's like to be judged and so we're more . . . we're less scared of it. So I think our naiveté is on our side and can be used to our advantage. Even going in to these competitions and going in to the episodes, we forget often that we are in a competition because we're really just hanging on by the seat of our pants. We don't really know what our talent is. We just know the works that we've done and the creativity, our own creative spin on it, and that's kind of what we're going by. So yeah, I think that's where most of the nerves come from is that whole part of it.
What's it been like working with the host of The Sing-Off, Nick Lachey, and had you ever met him before?

I did. And I reminded him of it. He is the nicest person on the show. He would come and just talk to us in between commercial breaks, and he's just the greatest. So during one of the commercial breaks he came over, and I was like, "We've done a show together." And he's like, " Really?" And I sang on Miss Teen USA with him, and it was 2001. I sang "Live for You" during the swimsuit competition [chuckles] which was so hilarious. And he sang, 98 Degrees actually sang, they sang on a different segment on the show. And he remembered actually. He remembered the whole event, so that was cool to remind him of that.
Can you talk about any of the songs you've already had to perform so far on The Sing-Off?

We're not allowed to say. I'm sorry. It's so hard.

What do you hope that this experience on The Sing-Off means for you personally or for your career?

I know that during the taping and stuff it's been really cool to just be able to talk to these college kids, because a lot of them are in college. Some of them are more our age, but even then it's been really cool to just share my experience with them, just kind of during the week, behind the scenes . . . because they are all just so precious and just coming out of high school and they love music and they don't all know about Nashville and about even L.A. But I think Nashville represents a group of artists who are making it without "making it" . . . without having to be "Hollywood" and be super famous. You don't have to be super famous to do music for a living, and they don't know about independent music and stuff. So it was cool to be able to share my heart about music and then obviously I even got chances to pray with a lot of the kids that you know weren't really normally doing that or weren't really wanting to. And people go through some pretty hard stuff on the show, and there's a lot of pressure and a lot of stress.

So it was cool to just share the Lord in certain ways. In some ways . . . yes, some ways were more obvious and evident than others, but even just to come with the love of Christ, to walk in this situation like that I just felt that power, that certain thing inside of me that God was giving me to be able to be a light and the strength to shine it to such a stressful little world. And then on a bigger level, just through the show actually being aired and stuff . . . it's one of those things I said "yes" to, and it's a new opportunity. If it reminds old fans of mine that I'm back and that I'm putting out new music, then that'll be great for that. And if it's about gaining new fans and showing new fans about Christian music and about independent music with the other people in my group, then that'll be a great benefit from that.

And beyond the music on the show, we hope that . . . one of our priorities was that we would communicate these songs and not just perform them and sing them, but really communicate something deeper on a deeper level. And so I hope that that comes through. And it's really hard on these shows. You get like a minute and a half, maybe two minutes, to sing and so as artists that was our biggest battle . . . now that we've done all the technical stuff, let's really share this song. So we hope that through just musically and through our songs we'll be able to touch people and move people, and that's the most pressure we can take on. God will do the rest. He'll plant seeds and do the rest. We're just trying to be genuine about our songs and see what happens.
So there are other believers in The Collective besides yourself?

Yes, there are. There's a lot, so that was a good little support system around me.

Do you feel like your years of not recording and touring really prepared you to naturally shine your light in this type of setting?

Totally. Just being a friend, too. I had to relearn how to just be a friend with people and so I think that also is showing now. Now that I'm out doing it again, it feels different because I feel like I'm friends with my producers and friends with my writers and with the people around me.
Let's say that The Collective does win The Sing-Off. That means you'll win a recording contract and release an album, right?
Yes. As The Collective, yes. And I think either way, I think we're probably putting out something just because we've all enjoyed it. But yeah, we're not really sure what that all means toward the end of it.

So that could be a whole new chapter for your career.

It will. I think we're all solo artists, and we all have yet to have that conversation of how much, how little, how much is it going to interfere with what we have going on. So far, I'm the only one in the group with a record coming out this year. So I'm kind of in the tightest position as far as time and all of that, but it always works itself out. It's going to be a fun year, and it will be a lot of work and I'm up for it.

Your album comes out the week following The Sing-Off's premiere. Is that right?

Yes. The premiere of the show is September 19 and my first episode is September 26, so . . . I think some people might be disappointed or think I'm on the first one.

Will you also be fitting in some time for touring All We Need this fall?

I'm actually back out the end of September, early October with Group 1 Crew and Shonlock and Rapture Ruckus.
What about acting? Are you still doing that or is it on the backburner right now as your music has come back to the forefront?
I would love to, yes, when I have time. I loved my experience on Hidden Secrets [2006] and have been sort of putting feelers out for more stuff. It kind of keeps getting pushed back a little bit by the record, by The Sing-Off, by the tour . . . you know all that stuff. So I think it's going to naturally find its way back in to my life maybe early next year or late this year. I think it's just got to make sense.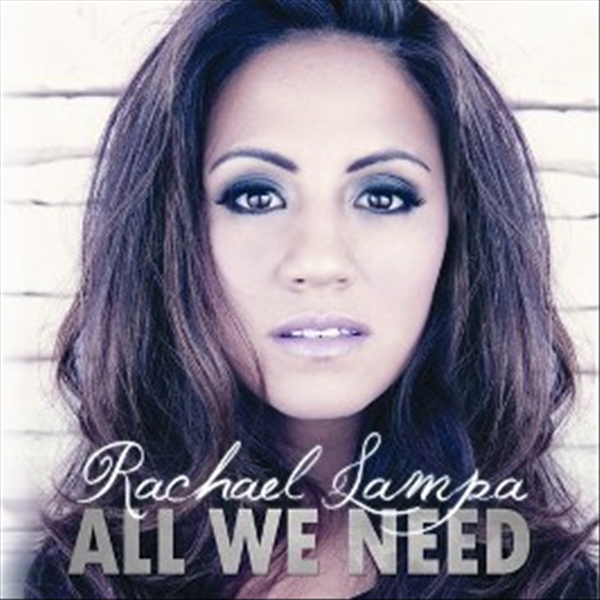 For more information about Rachael Lampa and her upcoming September 27 project, All We Need, please visit www.rachaellampa.com. NBC's The Sing-Off premieres on Monday night, September 19 at 8/7c. Check your local listings. Or for more information, please visit the official site for The Sing-Off.