Christian Businesses?
By: Rick Boxx
November 22, 2011
While teaching in a prison I was asked, "As a Christian can I start a tattoo parlor, a bar, or other business that many Christians may disapprove of?"
There was a time in my life I would have dogmatically answered no, but now I'm not so quick to judge without a lot more information.
Jesus said in Mark 12:30, "You shall love the Lord your God with all your heart, and with all your soul, and with all your mind, and with all your strength. The second is this, 'You shall love your neighbor as yourself. There is no other commandment greater than these."
To decide if a business is acceptable for a Christian, ask yourself, "Can I do it in a way that loves God, and my neighbor?"
Mike Frank's Prosperity with Purpose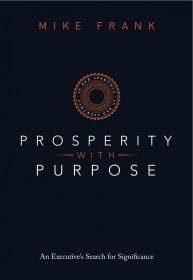 "If you are an executive that thrives on business but are thirsting for more, this book may be your story as well. I can't give you the formula for success, but I can show you how to live a life of relentless purpose…which may or may not include profound wealth". Click here to learn more.
"How well are you modeling Faith, Integrity, Relationships, and Excellence in your work? Find out by taking Integrity Resource Center's free FIRE Assessment!"
Contact Rick Boxx at www.integritymoments.org, and to learn more about Integrity Resource Center go to integrityresource.org.