Just you and God
"Among the attributes of God, although they are all equal, mercy shines with even more brilliancy than justice." —Miguel de Cervantes Saavedra
Bible passages like 2 Corinthians 5 are packed. They overflow with meaning. Nearly every word can have deep impact on how we anticipate something like the judgment of Christ.
For we must all appear before the judgment seat of Christ, so that each of us may receive what is due us for the things done while in the body, whether good or bad. —2 Corinthians 5:10
For example, consider that the passage says "each of us." There will be an accounting that takes place there. Notice that, but also notice what it doesn't say:
- You will not be asked to give an account for your spouse.
- You will not be asked to give an account for your neighbor.
- You will not be asked to give an account for your friends.
- You'll not be asked give an account for your pastor.
- And no, you won't have a lawyer with you.
At the judgment seat of Christ, it's just going to be you and Jesus.
Imagine that, if you would.
This will be "the big moment." It might lead you to believe that you will be on trial for your sins, but that's not the case. Hundreds of passages of Scripture teach the very simple truth that if you are in Christ, your sins are covered, dealt with, done with, and will not be brought up by Him again. Hundreds of passages of Scripture such as:
For Christ also suffered once for sins, the righteous for the unrighteous, to bring you to God. –1 Peter 3:18
Therefore, there is now no condemnation for those who are in Christ Jesus, because through Christ Jesus the law of the Spirit who gives life has set youfree from the law of sin and death. —Romans 8:1-2
No, if you are in Christ, you will not experience His wrath. If you are in Christ, this moment will have nothing to do with your sin. It's just about you and Him… you and Him, alone together.
Lord Jesus, I believe that You are with me now. I believe that Your Spirit is within me. And yet my life is so cluttered by others. Lord, I look forward to that day, to that honest moment when no one else will be around, when pure honesty will be shared. With nothing left to prove to anyone else, and nothing left to do except to be with You. Give me a taste today of what the feast will be like. Amen.
Listen to Pete, Jill & Stuart Briscoe on the Telling the Truth broadcast at OnePlace.com
SPECIAL OFFER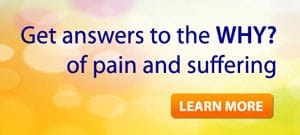 Jill Briscoe with answers to the "Why?" of pain and suffering!
"Why?" is one of the most enduring questions we ask when confronted with trials, pain, and suffering. Why does God allow such things, particularly in the lives of believers? And how are you supposed to react to them? Is it okay to be angry? To question God? To be shaken in your
faith
?
Jill Briscoe explores these tough questions and finds answers in her study of the Book of Job called
Out of the Storm and into God's Arms.
With study questions at the end of each chapter,
Out of the Storm
shows that you don't have to just survive hard times. You can actually thrive during them!
Out of the Storm
is our gift to thank you for your donation of any amount below to help Telling the Truth continue to help others like you experience the exciting, fulfilling, abundant Life Christ offers. So please request a copy when you give.
Thank you for your generosity to help other experience real Life in Christ!