"There is only one Lawgiver and Judge, the one who is able to save and to destroy. But you—who are you to judge your neighbor?" — James
Context. Context. Context.
Those are the three most important things to remember whenever you're reading the living Word of God and trying to figure out how it applies to your life today. Always ask:
What does this verse say?
What do the verses around this verse say?
What do other verses in different parts of the Bible say about what this verse says?
That's important to do no matter what you're studying, but when you're dealing with things like "the judgment seat of Christ", I think it's even more important, because verses dealing with topics like this can really throw your brain for a whirl unless they are taken in context. And if you're sincerely trying to figure out what to do about it, you're likely to head down the wrong path unless you study it in context, context, context.
Consider 1 Corinthians 3:
For no one can lay any foundation other than the one already laid, which is Jesus Christ. If anyone builds on this foundation using gold, silver, costly stones, wood, hay or straw, their work will be shown for what it is, because the Day will bring it to light. It will be revealed with fire, and the fire will test the quality of each person's work. If what has been built survives, the builder will receive a reward. If it is burned up, the builder will suffer loss but yet will be saved—even though only as one escaping through the flames. Don't you know that you yourselves are God's temple and that God's Spirit dwells in your midst? If anyone destroys God's temple, God will destroy that person; for God's temple is sacred, and you together are that temple (vv. 11-17).
Most people are familiar with the middle part of this verse, and it's very sobering. Judgment is coming. There will be a reckoning. Our works will be tested by fire and a lot of it could go up in smoke. Please get this: If that's the only part of the verse you see, your natural, fleshly instincts are going to jump in and tell you to do something about it yourself. Why wouldn't you want to live righteously, so that your works don't get burned up so that you can get rewarded at the judgment seat?
Why not? Because it doesn't work. (It's the stuff that you do in your own strength that's going to burn up, even if it looks like it's made of gold or silver.) What's the context?
Anything that we do is to be built on the foundation of Jesus Christ. We start with what He did, not with what we do.
We are God's temple, and the Spirit lives in us. If a particular work is to survive the fire, it must be done by the Spirit through us.
Yes, we will stand before the judgment seat of God where everything is going to be tested by fire. Some of our works are going to be singed even though we are saved. Thank God there is more to the story than just that. The context gives us the alternative.
Lord Jesus, I come before You humbly today. Throughout the whole context of the Bible, I see that my works are nothing but filthy rags before You, and yet all things can be done through You who strengthens me. I rest in You now. I ask that You would work through me, by the power of Your Spirit in me, to build on the foundation that You have already created. Amen.
Listen to Pete, Jill & Stuart Briscoe on the Telling the Truth broadcast at OnePlace.com
SPECIAL OFFER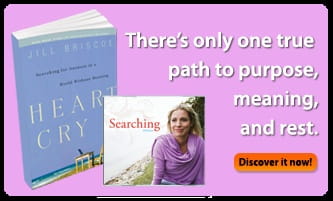 Jill Briscoe's Heart Cry book
Do you struggle with feelings of emptiness? Are you asking yourself: Is this all there is? Jill Briscoe wants to help you get past the urgency, activity, and distraction of today's world and discover the only true path to purpose, meaning, and rest. Request her book, Heart Cry, today!