How is it then that we've come to imagine that Christianity consists primarily in what we do for God? How has this come to be the good news of Jesus? – Brennan Manning, The Furious Longing of God
Sometimes after I've shared the Gospel of grace, I'll be approached with this question: "I understand what Jesus did, and I understand the finished work of Christ. I know it's all about Him and His power. But what should I do now?"
We are always looking for something to do, aren't we? Just point us toward someone we can imitate and replicate, and we'll do our best to be good enough.
This is not a new problem. The audience of Hebrews struggled too, as their background was steeped in the law: Do these things and make yourself holy. But the essence of the new covenant – of Jesus – was rather: Accept Me and I'll make you holy.
Doing more and being more was a temptation then, just as it's a temptation today. And into this need to do more, the author of Hebrews wrote:
Therefore, holy brothers and sisters, who share in the heavenly calling, fix your thoughts on Jesus, whom we acknowledge as our apostle and high priest. - (Hebrews 3:1)
That phrase fix your thoughts on Jesus means "to send your thoughts toward."
In the Gospels Jesus said, "See how the flowers of the field grow" (Matthew 6:28). Find a field where the flowers grow. Sit down in a big patch of lilies – smell them, feel them, study them.
The Greek word for "consider" also means "fix your thoughts on."
For those of you who are looking for something to do – do this: Consider Jesus. Meditate on Him. Delight in the fact that He's your apostle and High Priest. During Moses' day, the high priest represented the people to God, offering sacrifices for the sins of Israel. Jesus became this sacrifice.
So if you need something to do in response to all of this grace, start with this: Fix your thoughts on all Jesus did.
Jesus, how many creative ways can I consider You? With the music blaring on the way to work, or in a quiet office space as I contemplate Your goodness? What grace – You doing all that You've done, asking only for mindful worship in return. It's a simple request, fulfilled by the invitation of Your Spirit calling mine. Amen.
Listen to Pete, Jill & Stuart Briscoe on the Telling the Truth broadcast at OnePlace.com
SPECIAL OFFER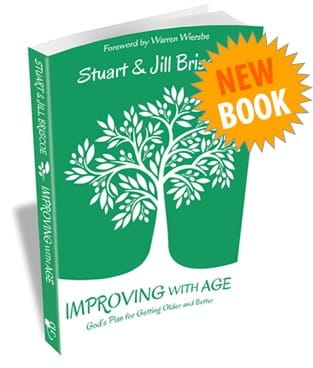 Stuart and Jill Briscoe's 'Improving with Age' book
We have every reason to embrace and enjoy the adventurous, alluring, and sometimes arduous process of aging. Find out how you can live with identity and purpose in your later years in this brand new book by Stuart and Jill Briscoe!