A relaxed contemplation of the indwelling Christ allows for an inner communion [otherwise] impossible to achieve while oppressed by busyness and care. – Calvin Miller, The Book of Jesus
Undercover Boss is a reality TV show that secretly brings the person who serves as an executive over a company into an undercover position alongside employees within the company. The connection between the two often results in some financial or promotional benefit to the hardworking employees. The concept is moving, as both the CEO and the hardworking employees have moments of heroism. But after the feel-good show is over, there is still a CEO over the company, and employees working within the company. That distinction is an important one.
Our passage today shows us a young church that was struggling with houses and heroes. Was church held in a living room really better than synagogue at the temple? Were simple dinners better than tradition and festivals? Was a murdered Savior better than a beloved patriarch?
The author of Hebrews answered their fears with, "Yes, yes, and yes."
"'Moses was faithful as a servant in all God's house,' bearing witness to what would be spoken by God in the future. But Christ is faithful as the Son over God's house." - (Hebrews 3:5-6)
It was a little bit of comparison and contrast. Both Moses and Jesus were faithful. But the difference in their faithfulness is found in the prepositions: Moses was faithful in all God's house, but Christ is faithful over God's house. And again in the verb tense: Moses was faithful as a servant, while Jesus is faithful as a Son.
Grammar counts. When you break it down, there's really no comparison, is there?
Should we respect those who were faithful servants of God? Absolutely. That grandmother who prayed you into the Kingdom? Respect her but don't try to be her. The youth worker who led you to Christ? Remember him with affection but don't imitate. The pastor who brings you the Word of God each week? Again, appreciate but do not duplicate.
We're told to meditate on the Son who is over God's house. Dwell on the indwelling Christ. Spend time in the New Testament. Get to know Jesus who indwells us. For "we are his house" (Hebrews 3:6).
Jesus, what sweet communion to be a home for Your indwelling Spirit! Creatively express Yourself through me. I want others to know the Builder who so faithfully restores lives. Amen.
Listen to Pete, Jill & Stuart Briscoe on the Telling the Truth broadcast at OnePlace.com
SPECIAL OFFER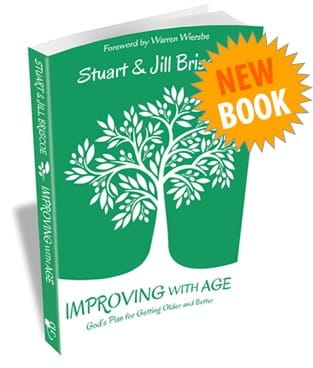 Stuart and Jill Briscoe's 'Improving with Age' book
We have every reason to embrace and enjoy the adventurous, alluring, and sometimes arduous process of aging. Find out how you can live with identity and purpose in your later years in this brand new book by Stuart and Jill Briscoe!