God's Law of Value Part II
By:Rick Boxx
February 2, 2016
Tom previously thought providing value to his clients meant offering cheaper, more competitive pricing. That changed when he discovered his clients viewed "value," not solely based on pricing of his service, but more importantly, on the quality, integrity, and knowledge in which Tom delivered his product.
Tom discovered "God's first Law of Value: "Providing Value." God's Law of "providing value" emphasizes the way in which we deliver the products and services to the market. When we serve our clients with quality, integrity, and expertise first, we offer the kind of "value" that our clients truly seek and desire.
Colossians 3:23 reminds us, "Whatever you do, do your work heartily, as for the Lord, and not for man."
To be valued by customers build your business relationships around the "value" your clients truly desire.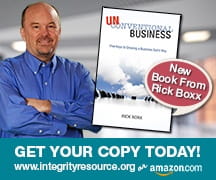 Learn more about Rick Boxx and Integrity Resource Center