April 8
Are You a Threat?
"Simon, Simon, behold, Satan has demanded permission to sift you like wheat…"
Leonard Ravenhill once said, "My main ambition in life is to be on the devil's most wanted list."  Satan had demanded to sift Peter like wheat because Peter posed a great threat in the future to the kingdom of darkness.  Peter's life, although marked by great failures at times, was a life that Jesus had plucked from ruin in order to set him on a throne someday in the courts of Heaven.  Peter abandoned himself to the call of the Lord and he never looked back.  He had the power of God resting upon him and people sought just to touch his garments that they might receive healing.  Countless lives confessed Jesus as Lord and Savior through the life of Peter.  If there are wanted posters in hell,  Peter would have been one of them!   He was a threat!   
Any life that is sold out, fully surrendered to the Lord's work, to His will and His way, will shake the portals of hell! To be the friend of God is to be the enemy of Satan.  There is no middle ground.   A force of Heaven will be a force against the kingdom of darkness.  The question is, what kind of force are you?  When your name is mentioned in hell do they tremble because you are a weapon of destruction in the hand of God against them?  Does Heaven rejoice at the calling of your name?  There are no silent forces, beloved?  Peter died crying out the One name that He knew could and would save all who called upon Him: Jesus.  There was no greater honor for him than to give his life for the One who gave His.  
The moment our feet step upon the floor each morning hell should quake with fear knowing their greatest enemy is awake and on the move.  What kind of enemy of hell are you?  Does hell even know you exist?  God saved us in order to use us as a powerful weapon against Satan and his entire host.  Weapons are only as great as the hand that holds them.  Have you placed your life, your weapon, in the hands of the God who is a Warrior, and asked Him to use you in the battle against good and evil?  Make your life count, beloved, cast yourself in the hands of the Almighty and fight the good fight of faith and give hell no rest. 
"Aspire to be something more than the mass of church members.
Lift up your cry to God and beseech him to fire you with a nobler
ambition than that which possesses the common Christian—that
you may be found faithful unto God at the last, and may win many
crowns for your Lord and Master, Christ."
                                                                                                  -C.H. Spurgeon
May I be found in the trenches of God till morning light.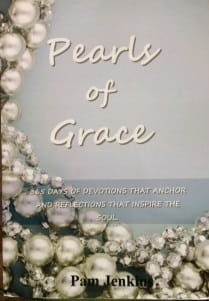 Pearls of Grace Devotional Book
Pearls of Grace is a book of devotions for the entire year, including a read through the Bible in a year calendar, broken down for every day. Beautifully written with encouraging words of hope and empowering words of joy and strength for every woman. Pam draws from the truth and richness of God's Word and gives real life examples in her down to earth style. A must have in your library, click here for more information.
For more from Pam Jenkins and Jabbok Ministries, please visit www.jabbokministries.com!
Listen to Pam Jenkins's daily broadcast on OnePlace.com.
For more from Pam Jenkins and Jabbok Ministries, please visit www.jabbokministries.com!
Listen to Pam Jenkins's daily broadcast on OnePlace.com.