Praise the Lord with All Your Heart
Enter his gates with thanksgiving and his courts with praise; give thanks to him and praise his name. Psalm 100:4
If you're like me, sometimes it feels like you've dragged your family into church, expecting the worship leader to sing just the right song and not repeat the chorus so often; and the gal behind us better sing in tune or try toning it down; and the pastor better speak just the right words to put us in a spiritual mood. God help them all if they don't! But that's backward. Psalm 100 commands us to come into His presence bearing a heart of gratitude, not wait for it to happen. It's nobody's responsibility to draw it out of us; we should come before God already filled with thanksgiving, praising God even before the greeter has a chance to flash us a smile and a bulletin; even before the first note is screeched, or, er, sung. When you encounter that person who always seems to be on top of the world, are you tempted to narrow your eyes and say, "Something's off here. No way anybody could be all happy all the time"? But a thankful heart has nothing to do with whether everything is going our way. We should express gratitude because we know what this psalmist knows: the Lord is good—regardless of what's going on in life.
Sweet Freedom in Action
Today, quit waiting until circumstances are just right before you praise the Lord. You already have so much to thank God for, so what are you waiting for?
---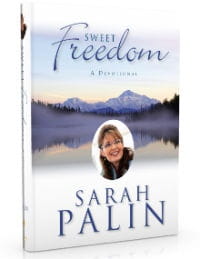 In Sweet Freedom, Sarah Palin invites you to draw strength and inspiration from 260 meditations based on guiding Biblical verses. You are not alone in your doubts and anxieties—we all bear the burdens of everyday stresses, and for most of us, our concerns spread beyond our selves to our families, communities, and country. But Palin shows that with abiding faith, and by opening ourselves to the truths that have saved mankind for generations, we can thrive—and experience true freedom.