Forever – is composed of Nows. – Emily Dickinson
Sometimes, we lose focus on the "here and now" of faith.
For some of us, this Christian life is a thing that happened in the past. At some point in distant history, you believed, said the prayer, Jesus saved, and it's all recorded in the book of yesterdays. No need to worry about anything anymore. Like buying a plot in a cemetery, you can check "faith" off the list of death preparations.
For others, the Christian life is solely a future hope. You live while holding your breath – hoping that tomorrow will be tolerable. You wait for the promise of heaven. Your life is not big adventure with Jesus, but instead one big waiting room for death and the hope of eternal life – if you can just make it without too many catastrophes.  
But life with Jesus is not simply a life of the past. Nor is it a life reserved only for the future.
Christ lives in me. The life I now live in the body, I live by faith in the Son of God… (Galatians 2:20)
The life you "now live" – as in, it's happening today. Think about it! You're living a life with Jesus, and Jesus is living in you at this very moment. And you have an incredible role in this way of life: You get to live by faith NOW. Not in the past, not in the future, NOW.
Today is God's gift of faith to you right now – a present God intends to be received in the present tense. God has given you front-row tickets to see His Kingdom and power lived out, by faith, through you today. Is it easy? Not always. Is it intimate? Yes. Is it an ongoing adventure? Every day!
"We are entangled in this divine life – dancing with Christ to the beat of His will."
TWEET THIS
We are entangled in this divine life – dancing with Christ to the beat of His will.
Jesus, thank You for the intimate gift of Your Spirit right now. Thank You for the gift of faith right now. I surrender and ask that You would rule every aspect of my life today. Amen.
Listen to Pete, Jill & Stuart Briscoe on the Telling the Truth broadcast at OnePlace.com
SPECIAL OFFER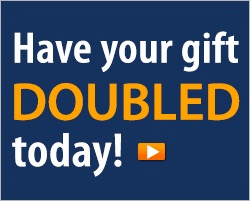 Have your gift DOUBLED today!
A group of generous friends has stepped forward with a $35,000 Matching Grant – which will DOUBLE any gift you give today! As a thank you for your gift, we'll send you Stuart Briscoe's new 3-message teaching series, Finding Healing, to help you experience God's healing power in your life.