ONE MAN GETS AROUND … Back in the '80s day, a young Charlie Peacock was just getting his toes wet in the contemporary Christian music scene.  And it's amazing that 20 years later, the once brand-new believer and newcomer to Christian music is now an established and highly respected artist, producer, author, teacher, mentor and visionary whose work is being honored on "Full Circle:  A Celebration of Songs and Friends" (Sparrow) releasing March 9.  While disc's line-up is diverse (Avalon, Sara Groves, Sixpence None the Richer, MercyMe's Bart Millard, tobyMac, Switchfoot's Jon & Tim Foreman, Michael Tait, Darwin Hobbs, Bela Fleck, Steve Taylor, Phil Keaggy, Jimmy Abegg), the songs all bear the mark of Charlie and are some of his best loved tunes from over the years.  Also joining on this special anniversary celebration disc is singer/songwriter/producer Sam Ashworth – also known as Charlie's son.  "In one way, working with my son on this project is a real fulfillment of what my wife Andi and I always hoped for in our marriage and with our children," shares Charlie, "that we would grow children who would stay in commnity, and those stories that we were a part of would continue to grow through them."  In addition to "Full Circle," Charlie will also release his second book, "New Way to Be Human:  A Provocative Look at What It Means to Follow Jesus" (WaterBrook Press), on March 16. 

WATERFRONT AT THE FOREFRONT … Newly-formed label Waterfront Records jumps in the praise & worship arena this month with its new "Chillout" series.  Coming at you March 9, "Chillout … A Time to Worship" and "Chillout … The Worship Xperience" are designed with listeners 16 to 28 in mind.  Both discs include transformations of popular songs like MercyMe's "I Can Only Imagine," dc Talk's "Jesus Freak" and Bob Dylan's "Serve Somebody."  "[Listeners] can hum along to these familiar songs while focusing their full attention on worship," explains label founder Hugh Robertson.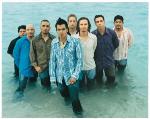 A POWER-PACKED, ONE-TWO PUNCH … Last year was all about the CD shuffle for Latin rock/worship band Salvador (Word Records) with the releases of a live praise disc and their debut all-Spanish language project.  And this year the crew of eight is being recognized for their dual efforts.  "Con Poder," has been nominated for a Billboard Latin Music award for "Latin Christian/Gospel Album of the Year," while "Worship Live" received two Dove Award nominations for "Praise & Worship Album of the Year" and "Spanish Language Album of the Year."  Even though both awards shows are over a month away (the 34th Annual Dove Awards are April 28, and the 2004 Billboard Latin Music Awards are April 29), the band is not resting on its nomination laurels quite yet as they're currently in the studio working on their next disc due out this fall.  After the studio, it's back on the road again this summer when Salvador performs at the Billy Graham crusade in Pasadena, Calif. in July, as well as at various Promise Keepers events across the U.S.