There's an undeniable natural thrill in finding a discount and saving money. It's well-known that many Hollywood stars, millionaires, and even billionaires enjoy finding a deal, whether it's on the latest fashion, jewelry, vacations, or real estate. The big difference in spending for the thrill of spending (and mostly for yourself) and a five-star life is that those who enjoy Five-Star Living don't let their excitement end with a register receipt. They allow the joy to continue through what they give, donate, and contribute to others.
The good news is that you don't have to have lots of money to make an impact. Simply by making little cutbacks here and there, you can not only multiply your savings, but also increase the amount that you give. That's the goal of Five-Star Living -- to help you find ways to make the most of what you have, enjoy your life to the fullest, and spill over with joy that you can share with others. When you give, it costs you something. But giving gives you far more than it takes. When you give sacrificially, God has room to replace what you have given up. His blessings will knock your socks off as you put others first.
My husband and I have experienced firsthand the joy of giving to those in need, and the blessings we receive are far greater than any dollar amount we contribute. One example for our family is our partnership with Compassion International. We joined Compassion on a trip to a South American country where they have a food-and-education program for children who are living in poverty. The kids live in dirt-floor "homes" constructed of whatever materials can be cobbled together, without the amenities (such as running water in many cases) that I take for granted every day. Compassion feeds the kids daily, helps them with homework, teaches them lessons that range from good hygiene to finding faith, and helps them work toward a better future. As a couple, my husband and I decided to sponsor monthly one of the children in that program. We met her, and now we exchange letters with her through Compassion. She is part of our family, and we are better off for it.
Our kids have joined in by using some of the ten percent of their allowances they are required to give to put toward our sponsored child. They also write to her, and we pray for her together. When we talk about her and the different hardships she faces, it reminds us of just how many blessings we have. The $32 a month we send is less than I spend on one Diet Coke fountain drink each day, my husband spends on his daily coffee, or our 10-year-old son spends on a beloved Game Boy game. Five-Star Living does not necessarily mean that we have to give up all the creature comforts we are blessed with, but it expands our hearts and helps us reevaluate our priorities.
As a family, you can teach your kids to give of their time and talents in addition to their money. Maybe you would want to participate in a neighborhood cleanup day, a walk-a-thon for an important cause, or hold a fund-raising garage sale for a local family who is adopting or has a special need. Ask your kids for input and ideas. Their imaginations will take you places you would never have expected, and you will be amazed at their capacity for generosity. Once they are taught how, and they see the joy on someone's face who receives a gift given with love, they tend to give freely and joyfully.
Giving benefits our marriage in unexpected ways too. It binds us in common purpose, strengthens our relationship as we make decisions of where to give together, and simplifies our life. One of the most exciting aspects of giving is that it frees you from allowing your possessions to possess you. Through giving, you let go of the need to let stuff and things control your life and instead provide a testimony to God's provisions. You demonstrate the faith that he will remain faithful in giving to you. Matthew 6:30-33 highlights this truth:
If God gives such attention to the appearance of wildflowers -- most of which are never even seen -- don't you think he'll attend to you, take pride in you, do his best for you? What I'm trying to do here is to get you to relax, to not be so preoccupied with getting, so you can respond to God's giving. People who don't know God and the way he works fuss over these things, but you know both God and how he works. Steep your life in God-reality, God-initiative, God-provisions. Don't worry about missing out. You'll find all your everyday human concerns will be met (MSG).
Through giving, you awaken to both the God-initiative and the God-reality that is in your life. Remember that the giving element in a five-star life isn't just about finances. It reaches further into your relationships and involvement in the community. It includes the listening ear you offer to a friend going through a hard time, the moment you patiently wait for an elderly person to cross the street, and the Saturday afternoon volunteering to sort through clothes at the Salvation Army. Five-Star Living means putting your talents and time to work in the directions that God leads, letting him steer you to exciting places and stretch you out of your comfort zone in new directions. Here are some favorite ways to contribute to others:
• Tithe to your local church. By giving ten percent of your income to your local congregation, you are helping support others in the community through your donations. If you haven't started tithing already, begin today.

• Support nonprofit radio and television shows. Do you have a Christian program, either on radio or television, that really encourages you and breathes life into you? If so, consider writing them an encouraging letter, praying for the station and its employees, and making a donation. While you should avoid high-pressure tactics to give, you also need to be sensitive to supporting the outreaches that mean the most to you.

• Sponsor a child. An enriching and potentially life-changing event is choosing to sponsor a child from a third world country. For around a dollar a day, you can help make sure one of the poorest of the poor receives a warm meal and education. Some programs even allow you to visit your child in their native country, a rewarding experience for everyone involved. Consider sponsoring a child through Compassion International, www.compassion.com, or World Vision, www.worldvision.org.

• Donate your next big hair cut. If you are having more than ten inches cut off your hair, consider donating your clippings to Locks of Love, www.locksoflove.org. The nonprofit organization provides hair pieces to underprivileged children under the age of 18 suffering from long-term hair loss. The company uses hair donations to develop hair prostheses. For more information about how to donate, call (888) 896-1588.

• Mentor someone. If you want to become involved in mentoring or forming a relationship with a child or teen, contact your local chapter of Big Brothers Big Sisters, www.bbbsa.org. You can also become a mentor through employer and church programs. But remember that some of the most effective and long-lasting mentoring relationships are built organically on a one-on-one level. Is there a younger married couple who has asked you for advice? Do you have any college students or recent graduates that naturally like to hang out at your home? Look for ways to be intentional about your relationships, and if you don't already have one, look for a mentor for yourself.

• If Election Day is around the corner, consider volunteering at your local polls. Not only will you meet new people, but also you'll help preserve one of our nation's greatest freedoms.

• Minister to someone who is imprisoned. If you don't have time to get involved in a prison outreach such as Prison Fellowship, www.pfm.org, than you can still serve children of prisoners through Project Angel Tree. For more information, call (800) 55-ANGEL.

• If you want to make a donation with just a moment of your time, there are several websites you can visit and click and the sponsors or advertisers will make a small donation to a charity. So the next time you're online, visit www.freedonation.com. Other sites include:

www.thehungersite.com,
www.thebreastcancersite.com,
www.thechildhealthsite.com,
www.theliteracysite.com,
www.theanimalrescuesite.com, and
www.therainforestsite.com.

Some sites limit you to one click a day, while other sites allow you several clicks.

• If you want to give the gift of giving, Charity Checks, www.charitychecks.us, allows you to purchase checks in many denominations and then give them as a gift. The gift recipient can choose any nonprofit organization to fill the check out to. This is a great gift that keeps giving. You get the tax write-off, your recipient gets the satisfaction of helping a person or organization in need, and the charity receives the funds it needs.

• Volunteer your time to baby-sit for a mom in need, clean the home of an elderly friend, or put your knowledge to work tutoring students or leading a Sunday school class or Bible study. Your efforts may be just what someone needs.

• Depending on your schedule, you may not be able to commit to any large or long-term projects, but you can still make a difference. Offer to bake or bring treats to a church activity or event. Pick up the trash on the side of the road when you're walking. Take someone who is involved in full-time outreach or ministry out to lunch. Little things do make a big difference!
Remember that giving is also contagious. When you get excited about giving, your efforts multiply. Like a pebble thrown in a lake, the tiny splash it makes soon creates a ripple effect that can move the surface of the entire lake. Consider the true stories told in the little books Kingdom Assignment 1 and Kingdom Assignment 2. Author and pastor Denny Bellesi preached at his Coast Hills Community Church in Aliso Viejo, California, on the subject of being faithful stewards. He ended the sermon by handing 100 members of the congregation $100 each. He instructed the recipients that the money was not theirs but God's, and that they were to invest it to please him. The congregants got excited about helping others and multiplying that money and began charity effort after charity effort. It did not take long before those few hundreds turned into hundreds of thousands of dollars being put to work to transform people's lives. You can do the same. We encourage you to start today.



---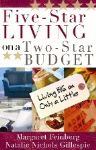 Adapted from "
Five-Star Living on a Two-Star Budget
" by
Margaret Feinberg
and
Natalie Nichols
Gillespie © 2006
Harvest House Publishers
, Eugene, Oregon. Used by permission.
Margaret Feinberg
is an award–winning journalist, speaker, and writer. She is the author of "Simple Acts of Faith"," Simple Acts of Friendship", "Twentysomething: Surviving & Thriving in the Real World," and "God Whispers: Learning to Hear His Voice." She has also published countless articles in national magazines including Christianity Today, New Man, BookPage, and Christian Single. Margaret and her husband, Leif, live in Alaska.
Natalie Nichols Gillespie
is a mom and stepmom of six who enjoys shopping, reading, and staying in five–star timeshares for only $30 a night! She is the author of "The Stepfamily Survival Guide" and "101 Ways to Find God's Purpose for Your Life" and has written countless articles for more than 20 publications including Charisma, Christianity Today, Spirit–Led Woman, and CCM Magazine. She lives with her family in Florida.