Unlike some of today's financial advisers I am not opposed to new cars.  Buying a new car is a personal decision that revolves around issues like your individual financial strength, your motives, and even your walk before Jesus. 

As I write this article I'm on an airplane coming home to Nashville from a No Debt No Sweat! Christian Money Management Seminar that I've just concluded at a church in San Jose, California.  As I normally do in the seminar, I took some time to talk about car buying.  After our kids and our homes, cars are frequently the biggest single expense we deal with.  I like to show audiences the four steps to follow to get rid of their car payments forever.  I like to challenge people to get out of car debt and buy cars the smart way.

In this article I want to share some of the pros and cons of both new and used car buying.  Ultimately the decision is yours. 

Advantages of New Cars:  Let's start with the advantages of buying a new car.  Experts point to at least three reasons why new cars can make sense.  First, the fact that it is a new car means you don't have to worry about someone else's abuse and neglect.  New cars usually have fewer problems and repair costs.  Usually new cars come with great warranties that protect the buyer for a number of years.  Second, new cars frequently are safer cars.  The latest models generally have the most advanced airbags, integrated child seating, etc. 
Third, if you're into technical goodies, a new car is likely to have the latest bells and whistles.  Every year there are advancements in braking and suspension systems, night vision, mapping systems, and the like.
Disadvantages of New Cars:  But there are two huge disadvantages to buying a new car:  Cost and depreciation.  Today average new car cost most of $30,000.  You can usually buy a wonderful used car for 30% to 60% of that amount.  And, wow, the depreciation is unbelievable!  Some experts believe that a new car can lose as much as 30% of its value the minute it rolls off the dealer's lot.  So we come back to the fundamental question:  Can you afford that amount of front-end loss?  In my judgment, the only person who should ever consider buying a new car is the one who can pay cash and feel no significant financial impact.

Advantages of Buying Used:  It doesn't take the sharpest knife in the drawer to realize that the number one advantage of buying a used car is affordability.  Frequently a two year old used car will cost as little as 40% to 60% of the original retail price.  Some financial planners have calculated that, in addition to the lower purchase price, a used car can save its owner thousands of dollars more over the years in lower sales taxes, insurance premiums, and finance charges.  Also when you buy a used car there normally isn't a charge for dealer prep or shipping.

Another good reason to think used is the fact that some of the old arguments against buying these cars carry less weight today than they used to.  For instance, the concern about quality is not as valid as it once was.  For a number of years now, cars have been better built.  Features like advanced engine designs and greater corrosion resistant materials in the body parts increase dependability and road life.  I regularly get over 150,000 miles out of my personal cars.

Also, the fear that a used car is nothing more than a breakdown looking for a place to happen is less of a worry today than it used to be.  Some of the manufacturers now offer dealer-sponsored used car certification programs on many of their vehicles.  And with the popularity of auto leasing (which I'm not a fan of), there is a constant stream of late model lease cars coming onto the market.  Remember, most of those lease contracts required that the lessees maintain the cars in good condition—or, pay a penalty. 

If you are planning to finance a used car, you may find better news on this front as well.  In many places used car loans are less expensive today—frequently something in the range of 1% over new car loan rates.

Disadvantages of Used Cars:  By shopping carefully, you may not find many downsides to buying a used car.  Obviously, a used car will tend to be less dependable than a new car.  You may have more frequent repair costs.  And, used cars often don't have all the technical and safety features available on their new counterparts. 
 Now, armed with knowledge and strategy—I challenge you to go forth and buy wheels that really are great deals! 


---
Steve Diggs presents the  No Debt No Sweat! Christian Money Management Seminar  at churches and other venues nationwide. Visit Steve on the Web at  www.stevediggs.com or call 615-834-3063. The author of several books, today Steve serves as a minister for the Antioch Church of Christ in Nashville. For 25 years he was President of the Franklin Group, Inc. Steve and Bonnie have four children whom they have home schooled. The family lives in Brentwood, Tennessee.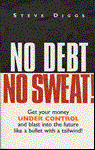 A complete financial compendium, 19 chapters
• What you can do today to get out of debt and kill the Debt Monster
• A,B,C's of handling your money God's way
• How to save, invest, and retire wisely
• How mutual funds work
• How to stop fighting over money
• What to teach your kids about money
• Learn how home & car buying, college financing and insurance work.
• How to develop a budget that works -- forever!
• Features simple charts, graphs, and easy-to-use forms.
Click here to learn more or to order.