Storms Ravage Alabama; Death Toll Rising Fast
Compiled & Edited by Crosswalk Editorial Staff

2011

28 Apr

COMMENTS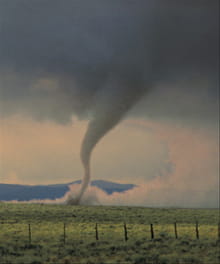 April 28, 2011 11:13 a.m. EDT
Relief organizations have been focused on the aftermath of Japan's earthquake for the last month. Now, they are scurrying to deploy assessment teams right here in the United States.
At 231 people were killed last night as storms swept through several southeastern states last night, with Alabama bearing most of the losses. At least 149 deaths were reported throughout the state after tornadoes and severe thunderstorms devastated the area. The death toll is still rising quickly as authorities survey the damage.
"I don't know how anyone survived," said Tuscaloosa Mayor Walter Maddox, according to CNN. At least 36 people lost their lives in the west-central Alabama city. "We're used to tornadoes here in Tuscaloosa. It's part of growing up. But when you look at the path of destruction that's likely 5 to 7 miles long in an area half a mile to a mile wide ... it's an amazing scene. There's parts of the city I don't recognize, and that's someone that's lived here his entire life."
In Birmingham, the city's mayor told NPR that the city looked as if "a bomb has been dropped. He continued, "You're talking about whole neighborhoods of housing just completely gone. Churches, gone. Businesses, gone. I'm not talking about just roofs being blown off, but just completely gone."
More than 410,000 people in Alabama and Georgia are without power, and the governors of Alabama, Mississippi, Georgia, and Virginia have all declared states of emergency. Many areas remain under a tornado watch Thursday morning.
According to Phyllis Freeman, World Vision's Director for Domestic Disaster Response, assessment teams are already en route to the organization's Dallas storehouse. The warehouse, already filled with short- and long-term supplies, will supply moving into hard-hit Alabama. World Vision plans to begin moving in emergency supplies – including personal hygiene items, paper supplies and even mattresses – within 24 hours. The organization also plans to aid with rebuilding efforts, focusing on families who do not have any insurance or enough insurance to cover the damage costs.
Likewise, Samaritan's Purse disaster teams are also on their way to affected areas.
"Our teams of disaster relief experts are headed to Tuscaloosa, Birmingham and Cullman, Ala., this morning and will immediately begin assessments to determine the organization's best response. We have also dispatched two of our Disaster Relief Units—tractor trailers stocked with emergency supplies and tools, which are ready to roll whenever disaster strikes," said Luther Harrison, director of North American Projects for Samaritan's Purse.
The death toll is still rising by the hour. Please keep all the affected areas in your prayers.
Join the discussion and prayer on Crosswalk Forums
Sign up to receive updates through Crosswalk's After the Disaster Facebook page.