God's Idea for Thanksgiving
Senior Living Ministries

2008

25 Nov

COMMENTS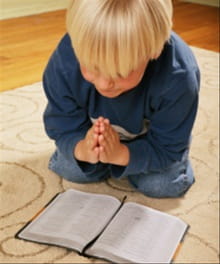 Rejoice and be glad, because great is your reward in heaven, for in the same way they persecuted the prophets who were before you. -- Matthew 5:12
Matthew 5:12Are you ever like the child who at the end of the day kneels by his bedside and prays, "God, thank you for not letting Mom find the candy wrappers in my pocket. And I'm glad I was able to have all the chocolate I could eat at Johnny's house today. Oh, and I can't forget to thank you for not letting Dad miss the nails I took from his workbench. Amen …"?
This attitude can characterize us as Christians sometimes. In Matthew 5:12, the Lord challenges us to look toward our hope and reward in heaven. Instead of putting emphasis on material wealth, social status or success, Christ tells us that genuine happiness, contentment, and prosperity begin first in the heart.
There are several ways we can say "thank you" to the Lord in a meaningful and sincere way. Thank Him for the difficulties in life that have caused you to recognize your spiritual needs, to mourn over sin and to submit to His authority. Thank Him for the joys and sorrows that have encouraged you to hunger and thirst after righteousness, to have compassion and mercy on others, to be pure in heart and holy in your lifestyle, and to be a peacemaker. Thank Him for all the things that have helped you to develop a willingness to follow His plan for your well-being.
This is God's idea and plan for true thanksgiving.
PRAYER CHALLENGE: Pray that God would help you learn what being thankful is truly about. Ask Him to develop an attitude of gratitude in your heart 365 days a year. And pray that He would help you to realize that Thanksgiving is not just a day, but a way of life.
Click here to visit Senior Living Ministry's website
Publication date: November 23, 2006
Visit Crosswalk's Thanksgiving Facebook page at www.facebook.com/iAmThankful.