The Briarpatch Gospel: Welcome To The Briarpatch
Shayne Wheeler
Wednesday, February 20, 2013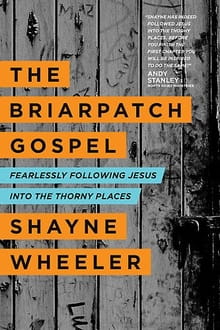 EDITOR'S NOTE: The following is an excerpt from The Briarpatch Gospel by Shayne Wheeler

You Are Here: Coming To Grips With Our Fear
A ship is safe in harbor, but that's not what ships are for. - William Shedd
A dead thing can go with the stream, but only a living thing can go against it. - G. K. Chesterton
I was three weeks out of seminary and working as a youth pastor in Virginia when I first went to New York City, leading a mission trip to hand out gospel tracts in Brighton Beach, near Coney Island in Brooklyn. We were an idealistic group, convinced that our finely crafted leaflets had the potential to reach hundreds, if not thousands, of hard-hearted New Yorkers for Christ. We had ten thousand tracts, so our goals for transforming lives and changing hearts wouldn't exactly measure up to Billy Graham's famous sixteen-week revival in 1957, when millions heard the gospel at Madison Square Garden, Yankee Stadium, and Times Square. Still, we figured that a few thousand conversions would suffice.
Within hours, my high-flying dream of evangelistic stardom had begun to stall as, one after another, the disinterested denizens of Brighton Beach accepted one of our tracts, gave it a quick glance, and dropped it without even breaking stride. The discarded leaflets began to pile up in the trash cans and blow like forsaken tumbleweeds on the streets of this bustling city. Rather than capturing a city for Christ, we were creating more work for the New York City sanitation workers. By the end of the day, my evangelistic fervor was in a steep death spiral.
Welcome to earth, Shayne. I hope you enjoyed your flight.
By the third day, embarrassment had given way to a growing cynicism. We decided to move our team out to the famous boardwalk, where folks would presumably be more jovial, friendly, and open to our efforts.
This was not a good move.
The unrepentant littering continued. One young member of our team approached two men who may have been members of the Russian mafia. After treating him to a litany of profanity and threats, one of the men pulled back his jacket to reveal a holstered handgun, not so politely inviting our teenager to walk away and not return.
Things were not going as planned.
Disillusioned, I stopped near a bench overlooking the ocean, where an elderly gentleman in a well-worn fedora sat watching the waves, a wooden cane hooked on the backrest. Judging him unlikely to be hiding a gun under his faded green summer jacket, I sat down to lick my wounds.
A saline breeze had begun to move onshore. "Rain is coming," he said in heavily accented English.
"Uh-huh," I replied.
"What brings you to boardwalk?"
"These stupid tracts."
"What are they about?"
"Jesus," I muttered.
"You think Jesus is stupid?"
"We've handed out thousands of these, and most have ended up on the ground. It feels no different than if they were restaurant coupons or flyers for one of the strip clubs."
"Yes. Everybody is selling something," the man agreed. "But if your Jesus is so important to you Christians, why do you make us read? You say he lives in you—so why you don't show him to us?"
"What do you mean?" I asked.
"You give me piece of paper that says your belief about Jesus, but you don't know me. Why don't you want to know me? A paper is just paper. Your paper is no different than other piece of paper, so why should I read a paper from a stranger? If you are Christian and Jesus is in you like you say, do not bother me with paper. Do not be stranger."
Recently on First Chapters
Have something to say about this article? Leave your comment via Facebook below!
advertise with us
Example: "Gen 1:1" "John 3" "Moses" "trust"
Advanced Search
Listen to Your Favorite Pastors