The Briarpatch Gospel: Welcome To The Briarpatch
Shayne Wheeler
Wednesday, February 20, 2013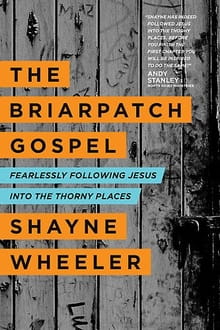 As I hoisted my backpack onto my shoulders, the tracts that now weighed me down seemed unloving and cruel. As awkward and unprepared as I had felt while talking to Ilya, I realized that our conversation had at least been real. And I hadn't even shown him one of my flyers. With a newfound determination, I resolved that never again would I hide behind my fear of not having all the answers or pretend to know more than I do. That day at the boardwalk was my first step away from cowardice and my first step toward a journey that would lead me into a vast and unpredictable briarpatch of questions, doubts, and fears, of untidy relationships and heartbreaking stories.
If we're honest, we want things to be easy in our relationship with God, and especially in our relationships at church. But it just doesn't work that way. Church, for many of us, is a place where real problems and struggles are covered in a veneer of genteel seersucker or khaki. Polite, superficial smiles mask the silent screams of struggle and pain because Sunday morning is just not the time or place to deal with the carnage of life—especially a life that has gone badly off the rails. But if the truth be told, the stories of the Bible can feel as lifeless and two-dimensional as a flannel storyboard, irrelevant to what we are experiencing in our fractured families, broken bodies, or emaciated souls. Nobody questions the blatant contradiction between our Sunday school façades and the inner turmoil of our fears and doubts. We would rather streak naked down the center aisle than ever confess that we sometimes question whether God is even real. Sound familiar? Welcome to the briarpatch. You are not weird. And life with Jesus will not make all your problems vanish.
The unfortunate reality is that we often feel more comfortable—more alive—at the local pub than at a church potluck, and it sometimes seems far more likely that we will run into Jesus downtown than at church. The image of Jesus being confined to an hour on Sunday morning or in a room politely fitted with matching pews (or padded chairs) and carpet, under outdated brass chandeliers and anchored with a pipe organ (or a stage for the band) just doesn't seem to match how the Son of God is portrayed in the Bible. Sure, he was a regular attender at synagogue, but he did some of his best work in the public places—at parties, with his friends, in the public square, among whores and crooks. And he probably didn't bathe very often. His life on earth was messy, and it ended brutally, on the cross, with a prickly crown of thorns pressed into his brow. Maybe he was trying to tell us something there. Perhaps that life is going to be unavoidably prickly and painful?
The gospel tracts were just one of the ways I had avoided wading into the thicket. I was certain there were others. Almost imperceptibly, my heart had been locked securely behind the gates of systematic theology and pat Sunday school answers, far from the real-time doubt and disillusionment of the people around me—far from the place where Jesus delights to meet us. In playing it safe, I had almost missed getting to know Jesus.
I realized that Jesus is in the midst of that jumbled thicket—the briarpatch—waiting for me to venture in. He's waiting for you, too. And if we follow him, we will find him. If we have the courage to enter the briarpatch, we will discover that Jesus is real and that his life, death, and resurrection matter—not just in the afterlife, but now. Here. In this place that he created, loves, and is renewing. We will discover that our lives matter—to the homeless man on the corner begging for a quarter, the bald lady at church going through chemo for the second time, or the gay man who loves Jesus but has been rejected by Christians so many times that he has finally given up trying. This is life in the briarpatch.
To be sure, the briarpatch is not for the faint of heart. There are risks involved. We will be shunned, even criticized, by the keepers of the Christian status quo. They will not appreciate the questions we ask, much less the answers (or lack of answers) we offer.
Recently on First Chapters
Have something to say about this article? Leave your comment via Facebook below!
advertise with us
Example: "Gen 1:1" "John 3" "Moses" "trust"
Advanced Search
Listen to Your Favorite Pastors