The Briarpatch Gospel: Welcome To The Briarpatch
Shayne Wheeler
Wednesday, February 20, 2013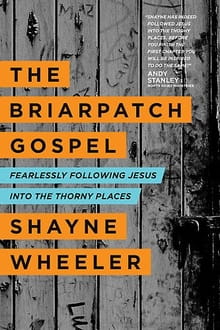 When Jesus went to the homes of tax collectors, and when he associated with adulterers, prostitutes, lepers, and Samaritans, he was misunderstood and reviled—the religious leaders called him "a friend of sinners" (Matthew 11:19).
Was Jesus compromising the truth when he ate with tax collectors and sinners? No, he was demonstrating his love for them. And the one truth that really mattered—the same truth that matters in our day as well—is that we're all lost sinners in need of redemption, which comes only through the sacrificial death and resurrection of Jesus. Our calling is to love other people as Christ has loved us (that is, while we were yet sinners), and allow the Holy Spirit to "convict the world of its sin, and . . . guide [us] into all truth" (John 16:8, 13, nlt).
The fact of the matter is that it would be much easier if there were no gays or liberals or divorced people or pagans at our church. It's awkward to meet a woman in church who used to be a man and try to figure out if you should refer to her (him) as "he" or "she." It would be much easier to avoid it altogether, ignore her and silently hope she decides to go to another church. Then again, it seems as if that would be like avoiding Jesus, too.
I saw Charlie again two weeks later. Fifth row, right on the center aisle. And he had brought his grandma with him.
Welcome to the briarpatch, Charlie.
You Are Here
I am certainly no titan of the faith, and I don't want you to think you have to be a Christian superhero in order to walk through the briarpatch. All you need is the courage to be yourself—the geek who has a gift for numbers and a passion for science fiction; the mom who considers it a success just to survive (without anyone getting hurt) until the kids go to bed; the executive who has been wounded by the church and wrestles with serious doubts, but can't get over the beauty of Jesus.
All you need is the courage to believe that God knew what he was doing when he made you, with all of your quirks, passions, idiosyncrasies, and general stupidity, and to extend the same faith, hope, and love to your friends and neighbors.
All you need is the courage to believe that your life matters to God—the way you befriend your neighbor who has just been diagnosed with cancer or listen to your coworker going through a divorce; the way you patiently love your teenager and hope for his or her eventual return to the human race, or struggle to forgive one of the many people who have wronged you. Such actions of grace and affection are the stuff of redemption.
All you need is the courage to acknowledge that life—your life—really stinks sometimes and seems to oscillate between crisis and boredom and back again. They may never make a Lifetime movie about your life, but you are already living in the briarpatch, and this is where Jesus delights to meet you.
In the pages that follow, I will share some of my own experiences of the tragedy and tedium of life. And you may have your own stories that are far more acute and wearisome than mine. But here's the point: The briarpatch is where God shows up. It's where we meet Jesus. Somewhere along the way, we have bought into the idea that we must go to a particular place or through a ritualized routine in order to find God.
I certainly affirm the power and necessity of meeting God in corporate worship and pursuing him in private prayer, but what do you do when you just can't find the strength? What do you do when your path has been a protracted series of disappointment, disillusionment, and despair? Or when you're on a path full of sickness, betrayal, and loneliness, and the thought of mustering the spiritual or emotional energy to pursue Jesus seems impossible, like reaching the summit of Mount Everest—when you are out of shape, out of gas, and out of breath, wishing someone were waiting with a tank of oxygen to help you up this insurmountable religious peak, or you are paralyzed with the fear of slipping and falling into the dark crevasses on either side of you. Truth be told, you can't take another step, much less make it to the summit in hopes of experiencing the transcendent presence of God.
Recently on First Chapters
Have something to say about this article? Leave your comment via Facebook below!
advertise with us
Example: "Gen 1:1" "John 3" "Moses" "trust"
Advanced Search
Listen to Your Favorite Pastors