The Cross & the Pen: Author Linda Evans Shepherd
Eva Marie Everson, Contributing Writer
Monday, August 08, 2005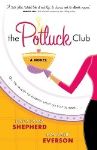 Welcome to The Cross & the Pen, Crosswalk.com's author to author interview column.
Do you know what I like about writing fiction? It gives me the opportunity to talk about faith in real life situations in the very same manner Jesus used. Parables. The parables of Jesus were really no more than fiction short stories, if you think about it.
A few years ago I was given the opportunity to write a work of fiction with my good friend, Linda Evans Shepherd. We worked on a concept, wrote a book proposal, handed it over to a few editors and waited. And waited and waited. For a year and a half we waited. Then we received a phone call that changed everything and we were on our way to writing the first book in a forthcoming series of books called "The Potluck Club" (Revell).
"The Potluck Club" tells the story of six women who get together once a month for potluck and prayer. Problem is, these women have enough misinformation to bring down an entire community! But when their individual faith is put to the test, they come to understand the very power of this thing we call prayer.
Recently I got together with my friend Linda to talk about the PLC, as we call it. Wanna listen in?
Eva Marie:  Linda, Linda, Linda! Tell the readers how our working together on this project came about!
Linda:  I'd just spent a relaxing weekend in the mountains of Colorado with my family where I'd read yet another unsatisfying book on the friendships of women from the secular market. I remember thinking, "They got it all wrong!"
I contemplated their mistakes, then thought if I were to write a book on the friendships of women, I would center it around real recipes and call it "The Potluck Club." I would call in another writer, to write the voices of some of the characters, thus creating a book by friends on friendship. That's when I phoned you, Eva. As the family car dipped in and out of the cell signal on the mountain road between Golden and Boulder, I called, and. …
Eva Marie:  And from my point of view, I was very tired, sitting in an airport and having been on the road for a solid month, when you called. At that point I was too tired to talk, but when we lost our connection and I closed my eyes, I remembered all those potluck dinners my mother took me to when I was a child. I remembered all the food! But, mostly I remembered the dynamics of the women who had cooked it. And so ... a partnership was born! Linda, let's talk about HOW we do this. We have six characters ... and each character has a very unique voice.
Linda:  Once we got cooking with plot ideas, we decided we should be in charge of three characters each. These characters' lives would intertwine with one another on a daily basis as well as at their monthly potluck prayer meetings. We took turns writing the chapters in each one of our character's voices. This was such fun, as we would have no idea what would happen to our characters when it wasn't our turn to write. Like in real life, we took turns responding to events affecting our characters and creating 'situations' for each other's characters. So, not only is our plot wonderful, we have a lot of unexpected twists and turns along the way.
Eva Marie:  It was totally fun! Totally. So, let's talk about the ladies! Let's talk about Donna. Who is Donna Vesey?
Linda:  Donna is one of my favorite characters. She's the local sheriff's deputy and has a history of conflict with several of the women in the Potluck Club. She's a living doll, but tries to be tough so she can control the situation around her. As we get to know Donna, we'll soon discover her secrets and the reason why she's one angry woman.
Have something to say about this article? Leave your comment via Facebook below!
advertise with us
Example: "Gen 1:1" "John 3" "Moses" "trust"
Advanced Search
Listen to Your Favorite Pastors