The Cross & the Pen: Author Linda Evans Shepherd
Eva Marie Everson, Contributing Writer
Monday, August 08, 2005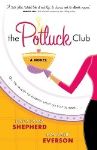 Eva Marie:  Yes, she is. And we really begin to understand why in book two, due out in 2006. What about Evangeline Benson?
Linda:  Evangeline Benson, the founder of the group, is a strong willed wonder who is having the time of her life, and it's not all joyful. As she unravels her personal history of failed romance, recovers from shocking news delivered at her front door by her very own niece, and combats the controlling hot cinnamon rolls of Lisa Leann, she experiences deeper faith and personal growth.
Eva Marie:  Oh, that Lisa Leann! She's a pill, as my mama so aptly described her!
Linda:  Lisa Leann Lambert is a true, but 'naughty' Christian who whips up wonderful dishes which she uses to bait and control others. Her favorite 'spread' is gossip. This makes her behavior rather hard for the members of the club to swallow. And by that, I especially mean a certain Evangeline Benson, the founder of the Potluck Club. Of course, if Lisa Leann gets her way, she'll soon replace 'Evie' and will take over everything, at least everything in Summit View, Colorado.
Eva Marie:  And then we have the tragic story of Goldie Brook Dippel.
Linda:  Goldie Dippel – what a dear. She's pretended for years that she was ignorant of her husband's various affairs. But no more! It's time to face the truth about her life and to find the courage to change it.
Eva Marie:  You go, Goldie! Vonnie Westbrook?
Linda:  What can I say about sweet Vonnie Westbrook whose halo hides a deep, dark secret? As this secret comes to light, Vonnie's entire world and everything she thought she knew about it, will be rocked. Interesting is the reaction to those nearest her. Donna Vesey will see her 'ideal' mother figure slip from sainthood to sinner.
Eva Marie:  But was Vonnie really a sinner or just a woman who thought she was doing the right thing at the time?
Linda:  She tried to do the right thing, but she lied to her husband and to all who knew her. So yes; she has some guilt, at least in Donna's eyes.
Eva Marie:  We often call Lizzie Prattle our "Rock of Gibraltar." Let's talk about our calm and rational Lizzie for a minute.
Linda:  Someone has to keep the group grounded before they stir up more trouble than the club can survive. And that person is our levelheaded, faithful Lizzie the high school librarian. She, with her watchful eyes, brings balance to the characters. It's not that she doesn't have troubles of her own; she does. But Lizzie is able to handle them with grace. At least, so far. ...
Eva Marie:  There's one other very important character. …
Linda: Oh, yes. Another 'character' is our fictional setting of Summit View, Colorado based on the Frisco/Breckinridge area of the Colorado high country. This setting was fun to introduce to you, a former Georgia peach who now resides in Florida.
Eva Marie:  Let's talk a bit about our writing process. During the year, we send chapters back and forth to each other, but … then … come January!!!!
Linda:  Come January, you join me in my Frisco, Colorado hideaway for a week of intense writing. In that one week, we complete an entire half of the manuscript, each writing in different rooms as we intermittently cry over our character's tragedies or howl with laughter over their antics. This, of course, generates the often heard call, "Hey, what's so funny?"
It's all a hoot.
Eva Marie:  But we do take a break every afternoon.
Linda:  Every afternoon we walk down the hill to Frisco's Main Street where we go into Butterhorn's Bakery & Café (which we based Higher Grounds Café on), for a cup of latte and a time of soaking up the local atmosphere.
Have something to say about this article? Leave your comment via Facebook below!
advertise with us
Example: "Gen 1:1" "John 3" "Moses" "trust"
Advanced Search
Listen to Your Favorite Pastors