A Smashing Good Time
Christa Farris, Contributing Writer
Thursday, April 03, 2003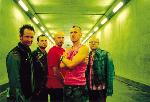 With technology connecting people like never before, there's no doubt the world has become a much smaller place. But even with the World Wide Web bridging the distance between continents, it's sometimes easy for Christians in the United States to forget that the gospel message isn't just for America. This message —fueling the artists who record and perform contemporary Christian music — is a message for the world.
But how could we illustrate that message in the pages of "CCM Magazine"? How could our staff provide a snapshot of the great big world we live in and how it relates to "faith in the spotlight"?
Actually we really didn't have to look far to find perfect spokesmen because the British rockers in Delirious have been communicating the gospel worldwide for the past 10 years. And even though many consider it to be an A-list band, the band has never graced our cover –– until now.
Delirious is adept at making incredible, guitar-driven music that inspires youth groups, Promise Keepers and rock 'n' roll fans who hang out in London's pubs. But regardless of locale, the band's songs don't differentiate between the sacred and secular.
>From huge hits in the Christian music scene like "I Could Sing of Your Love Forever" and "Deeper" that are sung in church services worldwide, to touring alongside rock icons like Bon Jovi and Bryan Adams, the band's mission does not change. And the songs' lyrics suddenly don't become more ambiguous — even when played on pop radio in Britain.
But despite its critical acclaim and commercial success, no one seems to know much more about the band that literally is a family. With four of the five guys actually brothers-in-law, they aren't afraid to tell the truth about each other's strengths and shortcomings — a trait that always makes for a compelling story. Equally interesting was the story's journey as I explored the culture, spiritual climate and music scene in Great Britain –– a trip I certainly won't forget any time soon.
>From my fascination with those bright red British phone booths to my love of Burberry plaid, theater and bands like Blur, Travis, Coldplay and the Beatles, a visit to London has always been at the top of my wish list. But little did I know that my work at "CCM Magazine" would make that dream a reality. With a scream of excitement, a look through all eight of my London travel guides and only two weeks (instead of the usual six) to secure a passport, I was off to jolly  ol' England just before Christmas to begin my investigation of life on the other side of the pond.
A Rough Start
With my flight arriving in London at 9:35 p.m. instead of 9:35 a.m. as originally planned, I spent most of the day in the close quarters of an airplane. But with our own mini TVs, my reading material and snacks served every few hours, six hours whizzed by.
As I looked out the window near the end of my flight, I sat in amazement as I saw millions of lights outlining the castles, bridges and office buildings of London. I was finally here and about to brave my first experience of going through customs and taking the underground to my hotel to begin my British adventure.
Answering "both" when the agent asked me if I was visiting Europe for business or pleasure, he stamped my passport, and I lugged my suitcases to the Heathrow Express. As I boarded the train to Paddington Station, conveniently located three blocks from the Royal Eagle Hotel — my home for the remainder of the week —  I heard my first English-accented voice say, "Mind the gap." Not sure whether she was a fan of the store or referring to a large space between her teeth, I noticed the words printed in front of the train and quickly assumed it meant "watch your step."
Have something to say about this article? Leave your comment via Facebook below!
advertise with us
Example: "Gen 1:1" "John 3" "Moses" "trust"
Advanced Search
Listen to Your Favorite Pastors