A Smashing Good Time
Christa Farris, Contributing Writer
Thursday, April 03, 2003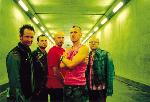 People-watching — English Style
Going to bed at 3:30 a.m. and waking up three hours later is never a good idea. But in order to catch the train to meet Delirious, sacrifices had to be made. Little did I know that taking the tube to Victoria where I'd wait for a train to Ford Station to meet the band would provide the best people-watching I'd ever experienced.
Riding the tube is a way of life in Britain, and people — like in New York City or D.C. — don't just wait for their stops. They read. And these business types don't read hard news like "The Wall Street Journal" or "The New York Times"; the majority reads tabloid-sized newspapers like the "Daily Express". Today's top stories? 'Britain Put on Terror Standby: Households to Get Attack Survival Guide' and 'Exclusive: What Really Happens to Stars After TV Soaps.' Other publications are equally intriguing in their range of "news" coverage that usually revolves around the royal family, (usually Prince William,) Victoria "Posh Spice" Beckham and her soccer star husband, David, or the monetary scandal involving British Prime Minister Tony Blair.
While traveling to meet the band, I also got my first taste of the English countryside as we ventured away from the city. With grass greener than any I'd seen in the States and houses that ranged from extremely rundown to divinely decadent with elaborate architecture, the trip to Delirious' town of Arundel was an interesting study in contrasts.
Bonding with a Band at Burger King
After the Delirious interview, several hours of British melodramas (they have the cheesiest but most enjoyable commercials) and a few hours of sleep, I braved the train again (to Guildford this time) and met up with a band of up-and-comers called Sabio. With few options available for an interview locale, the band formerly known as "Fruit" and I chose the oh-so-vibey atmosphere of a nearby Burger King.
Over hot chocolate the guys, their manager and I discussed the British music scene (they've played with Delirious and a lot of acts in the local scene) our favorite bands (we all have an affinity for Coldplay), and the guys' lack of knowledge about America's contemporary Christian music world.
With a sound that's reminiscent of meat-and-potatoes American rock like Tom Petty and relative newcomers like Creed, the lyrics are confessional and don't leave much to the imagination on what they're trying to communicate. (For more details on the band, check out CCMmagazine.com.)
Worship Times Two
After 12 hours of sleep following a fun day of shopping the day before, I hailed one of those cool-looking black cabs and ventured to Watford, a small town north of London, to the Soul Survivor Church where Matt Redman ("The Heart of Worship") and Tim Hughes ("Here I Am to Worship") often lead worship. There's a chill in the air on this damp English day, but the atmosphere changes instantly when I walk into the warehouse where church is held. I'm greeted warmly and invited into the sanctuary for one of the most incredible services I've ever been to. Trying not to play the observer, I can't help being taken by the people's fervency in worshiping God. Unlike church services I've attended at home, there's no people-watching, signs of boredom from the crowd or worshipers on the verge of sleep. Instead, there's loud declarations of praise with lots of hands in the air praising God for His goodness and grace.
Later while talking to a few of the church's members, they tell me that services like this are few and far between in London, as there really aren't many devout, evangelical Christians. Asking what this could be attributed to, I'm told that attending church isn't part of the British culture. Unlike the American way, where it's part of the culture if you attend church, it's because you really want to since many in Britain tend to be skeptical by nature and cynical about faith.
Have something to say about this article? Leave your comment via Facebook below!
advertise with us
Example: "Gen 1:1" "John 3" "Moses" "trust"
Advanced Search
Listen to Your Favorite Pastors