Amy Grant: Oh, How the Years Go By
Michael TenBrink, CCM Magazine
Tuesday, February 15, 2005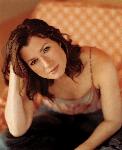 Amy Grant needs no introduction to CCM readers. Her 18 albums have sold some 24 million copies worldwide, and she has appeared on our cover 14 times — more than any other artist. She was also inducted into the "CCM Hall of Fame" last December. With the release of her second "best of" project (the first was 1986's "The Collection"), Grant is both leaving the past behind (with the completion of her contract with longtime mainstream label A&M), as well as preparing to embrace the future (with a second hymns project due from Word Records this spring).
Grant recently spoke with CCM by phone from Topeka, Kan., where she was in the midst of a tour with her husband, country artist Vince Gill.
Are there any of your own albums that you still listen to? Do you have a favorite?
Well, I listen to a record very heavily just as I'm finishing it. We're working on another hymns album right now, and I'm not listening to it while we're working on it. But right as we finish it, I will listen to it exhaustively. And then I probably won't listen to it again.
As far as a favorite album, I guess I don't really look at it that way. With every one I worked really hard and poured myself into them. Sonically, the two records that I feel will wear the best with time are "Lead Me On" and "Behind the Eyes." They were a little less shimmery pop. I also feel like some of the things that will never sound too dated will be some of the Christmas things because they have a timeless production to them.
Any chance of a fourth Christmas record? You might be the only artist in history to do four Christmas albums, so you have to at least consider it!
[Laughter] I don't know. It's not on the books right  now. I kind of get in a pattern of doing things, and I did all three of those Christmas records at very specific times in life, for specific reasons. Right now my love of something that is not radio-driven is doing these hymns records. So as far as specialty records, I feel like that has taken the energy I used to pour into Christmas records because I feel like they are timeless, too.
You worked with a new producer — Ed Cash (Chris Tomlin, Bethany Dillon) — on the song "The Water" for this "best of" record. It's such a different side of your voice than we've heard before — much more gritty and "earthy." Do you feel like that song was a unique case or are you starting to sing more like that as your voice continues to mature?
My voice is definitely getting lower. On this tour, I've noticed that some of the notes are harder to reach. I was talking with David Hamilton, who is conducting the orchestra on this tour, and he said that is just part of the way that some voices mature. But it's our limitations that help define what we can do and force us to be creative within that range.
When you look back at the last 18 years, what's the biggest way you feel you've changed or grown?
I'm still making music but because of my family, the focus of my life and the concentration that I used to give to music has been diluted by a lot of different but equally or more important things. Most of my personal relationships and working relationships that I had 18 years ago are still intact, which is wonderful. And I still live in the same town. All my family is still alive — my mom and dad and my sisters. It's really been a beautiful stretch of time.
What do you hope your life looks like in another 18 years? It'll be 2023, and you'll be 62 years old.
Vince and I had lunch this last spring — almost a year ago now. I knew that my time at A&M Records was winding down. In fact, this "best of" actually concluded that relationship. And I think I have maybe one more project with Word [Entertainment, her Christian label home since 1977]. And I looked at Vince and said, "You know, in a way our lives would be a lot less complicated if I were not working. And I'm just wondering what makes sense for us?" And he was so encouraging. He just said, "I don't care in whatever form you do it, but please always keep your creative side alive. Why can't we be like Johnny and June Cash, just making music and being creative until we're gone?"
Have something to say about this article? Leave your comment via Facebook below!
advertise with us
Example: "Gen 1:1" "John 3" "Moses" "trust"
Advanced Search
Listen to Your Favorite Pastors