Bebo Norman: The Art of Reinvention
Christa Farris, CCM Magazine
Friday, September 17, 2004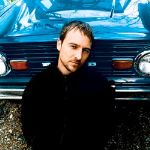 Word on the street is that singer/songwriter Bebo Norman has officially lost his mind. OK, maybe not in that true psychological sense; but it would be easy to question his sanity these days when he's purposely thrown his tried-and-true, successful music-making method out the window. Or so it would seem with the process he's adopted for this month's release of "Try" (Provident Label Group), his fourth major-label project.
Instead of relying on his digital recorder filled with songwriting ideas he's always kept close by; the perfect, pristine glow of vocals enhanced with a tuner; and the comfort of working with his longtime friend and producer, Ed Cash, Norman abandoned the familiar this time around, a strange reality for a guy who repeatedly claims he's "very methodical and loves consistency and routine."
But consistency and routine gave way to spontaneity for a few reasons, Norman says, while sipping his decaf outside at Bongo Java, one of his favorite haunts across from Nashville's Belmont University. And one of those key reasons was the result of major evaluation in Norman's life. At one point, that evaluation had him even seriously considering whether he should abandon his music gig for good. 
Reality Check
"I went through this huge redefining period about a year and a half ago, where the tour was going great; and the record ["Myself When I Am Real"] was doing well," Norman says. "I even had a radio song ["Great Light of the World"] for the first time in a while. And so those things were good, but I found myself on the tour going, 'I hate playing music right now.'
"And it was odd for everything to be clicking and for me to kind of step back and go, 'I'm not happy doing this at all,'" he adds. "So I decided to cancel all my shows that summer and be home. The first thing I needed to do was just get grounded on some level. I asked myself a lot of hard questions of whether or not I should be playing music: 'If the passion was gone, then why I am still doing it?' I swore I wouldn't do it if the passion was gone."
After taking some time off, Norman found answers to these lingering questions. "I think God sort of redirected me in a huge way. And it was made very obvious that I am still called to play music and be passionate about it, but I just had to do it differently now."
Part of doing things differently, he says, was realizing the need for complete honesty with himself and his audience, rather than just falling into a familiar routine of being who people expected "Bebo Norman" to be — a mindset that intentionally translated to his bare-bones approach to songwriting and recording on "Try."
A Creative Zenith
While artists don't usually face deadlines on a daily or weekly basis the way most people on the career track do, Norman found himself on a tight schedule to complete the album for his record label. And instead of procrastinating or relying on some ideas already in the can, he began the writing process from scratch while opening the "Imagine" tour with MercyMe and Amy Grant last spring.
"I loved that it was a change of pace for me, even unusually so," Norman offers. "It was as busy as anything; but, lately, I think God's kind of consistently been showing up in casual ways. It's not like lightning strikes so much as with real, simple conversations. It's random little things like that or even new songs that I didn't anticipate."
Musically speaking, Norman also employed the services of two new producers, Mitch Dane (Jars of Clay, Kyle Matthews) and Matt Bronlewee (Kevin Max, Rebecca St. James), something that made him a little nervous at first but in the end proud of the final result.
Have something to say about this article? Leave your comment via Facebook below!
advertise with us
Example: "Gen 1:1" "John 3" "Moses" "trust"
Advanced Search
Listen to Your Favorite Pastors