Bebo Norman: The Art of Reinvention
Christa Farris, CCM Magazine
Friday, September 17, 2004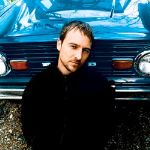 "I love how raw it is, how we practically left the vocal tuner in the closet and just let me hit weird notes in places," Norman says. "If they got too weird we'd hit 'em again. But, basically, we let something that felt genuine happen rather than something that felt perfect. It has been fun to let it be a little rough around the edges because that's how I feel some of the songs are."
Marriage: the Kiss of Death?
Even as important as the message and his music are to him and his audience, Norman has always been admired by a certain sector of fans for other reasons entirely: his easy-on-the-eyes looks; an approachable, even self-deprecating nature; and his single relationship status. Songs such as the honest yearnings of "Perhaps She'll Wait" from his "Big Blue Sky" (Essential) disc even added to his appeal, making him an object of many a Christian female's affections.
Given his recent marriage, is Norman concerned that he may potentially lose some of his fan base?
"The running joke when I decided I was getting married and people were beginning to find out was, 'Who's going to listen to your record now?" Norman recalls. "And I would laugh about it, too; but there was a part of me that said, 'What if there is some legitimacy to that?' Honestly, I have no idea; and there's part of me that's still nervous about that. But what, ultimately, makes people buy records? Yes, there's image involved and all those things people create. But those images are such caricatures of who we really are. There are true parts, but they're blown up a bit. I feel if people can still relate to the songs, that's what's important."

A New Learning Curve

Apparently even some of his friends were concerned, too, that marriage could be the proverbial nail in the coffin — career-wise. "I had a friend of mine who said, 'I thought you were going to [stink] now that you got married. I didn't know what you'd write about.' But [the album] still spoke to him, and he's a single guy."
And even though Norman describes married life with his wife, Roshare, as "amazing," he says it doesn't change the times of loneliness and despair that have always resonated in his songs.
"The truth is, you're still lonely even when you're married. The song 'Nothing Without You' on this record is about that — about how God has given me a time in my life where I can just sit back and enjoy where I am right now.
"All that said, I sat down one morning after the first couple of months of being married had been so much fun; and then we got into reality. She was going to work every day. I was gone on the tour for a while and then back home, and I was 'lost.' Now it was the real world again, and it was a quick reminder that all these things in my life that are beautiful mean absolutely nothing to me apart from my relationship with Christ. That's the reality of it. If single people think that being married is the thing that gives them life — the rest of their life — they are mistaken. It gives me so much life, but it doesn't give me life. It doesn't give me what ultimately fulfills me … and that's what I hope people can relate to. All these things are great, but there are still some days when I need to hide somewhere."
For more exclusive information on Bebo Norman, visit CCMmagazine.com.

Destination #2:  There's No Place Like Home

While he often jokes about being high maintenance "and a bit of a woman" because he "uses color in his hair," enjoys buying furniture and has a set of acrylic nails on one hand for finger-picking on his guitar, Bebo Norman is really a man of simplicity.
Have something to say about this article? Leave your comment via Facebook below!
advertise with us
Example: "Gen 1:1" "John 3" "Moses" "trust"
Advanced Search
Listen to Your Favorite Pastors