Bebo Norman: The Art of Reinvention
Christa Farris, CCM Magazine
Friday, September 17, 2004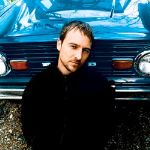 Take, for instance, his recent birthday gifts from his wife: a leaf blower, a weed eater and a gas can. While a little underwhelming in the gift department to some, he couldn't be more thrilled as he raves and deems it "the best birthday present in the whole world." And don't even get him started on the larger-than-life grill on his deck that he got as a wedding present. In fact, that makes two now, as there's a smaller version right next to it.
Then there's his quaint, rustic house with an antiques-meets-Pottery-Barn décor, nestled in the cozy Hillsboro Village neighborhood in Nashville — a part of town he's loved ever since he first visited. These days, he claims "furniture shopping has had to be put on hold" as the yard is his top priority. He's installed a sprinkler system and now needs to completely re-seed it for grass to grow.
Parked out in front of the house is another work-in progress, namely his 1976 Ford Bronco with vintage detailing inside and an engine he claims "gets about 10 miles to the gallon." While only used for short trips around the neighborhood, he plans on renovating it completely, maintaining its old-school look but fixing a few of the expected glitches — like the fact that there aren't any seatbelts, among other things.

Destination #3:  A Little Place Called Sputnik Studio

And no, we didn't go into orbit. Instead, we traveled to a relatively small, old house with loads of character in the Berry Hill district, often dubbed "Music Row South" by the artistic community.
It's a place where Norman's label mates Jars of Clay frequented for its recent album, "Who We Are Instead" and where Bebo recorded "Try." The Jars guys hung out at the studio a lot while Bebo made the album, even contributing a few background vocals, guitar licks and other sonic flourishes.
Greeting us at the door was Mitch Dane, who produced the bulk of "Try." And like a couple of old friends, it doesn't take long to sense the instant rapport between artist and producer. "It's been like a week and a half since I've seen you," Norman says.
"Yes, we must do dinner soon," Dane replies.
While spending the nearly three months holed away in Sputnik, Dane says, "We laughed a lot!" Then he proceeds to tell a story about Bebo's love for pistachios. "I gave him a quart of pistachios. About halfway through eating a bunch of them, he said 'I think these could be addictive.' He's just a funny guy."
Recent tour mate MercyMe front man Bart Millard also seems to agree that Norman is a funny guy. "Bebo is one of my favorite people! Not only is he one of the most gifted songwriters of our time, but he is also a dear friend with an incredible sense of humor," Millard says. "And the best thing about it is, I don't think he means to be so funny. He's just really Southern."

Destination #4:  Baja Burrito

Speaking of Baja Burrito, this small eatery, known for its fish tacos, fruit tea and mammoth-sized California-style burritos, was the final stop of the day.
Loading up on chicken, black beans and all the "fixins" inside of a spinach-flavored tortilla, Norman, laidback in khaki shorts and a blue t-shirt, talks about his favorite CDs to date: "I'm loving Teitur, and have you heard Josh Rouse? He's amazing."
Then, apparently tired of talking, he turns the tables and decides to play interviewer himself. "So where did you grow up? Are your parents still together? Do you think you'll always live here in Nashville?" And it's this easygoing nature and engaging conversation that solidifies why audiences love what he does. And there's no doubt, barring any other realizations, he'll be doing this "music thing" for many years to come.

© 2004 CCM Magazine.  All rights reserved.  Used with permission.  Click here to subscribe.
Have something to say about this article? Leave your comment via Facebook below!
advertise with us
Example: "Gen 1:1" "John 3" "Moses" "trust"
Advanced Search
Listen to Your Favorite Pastors