Diamond Rio: Reason Enough
Deborah Evans Price, Senior Music Editor, GospelMusicChannel.com
Thursday, November 26, 2009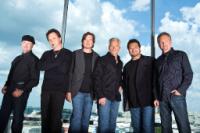 For nearly 20 years, Diamond Rio has been a fixture on the country music charts, picking up numerous accolades along the way, including four Country Music Association Vocal Group of the Year awards and two titles from the Academy of Country Music.
When they debuted in 1991, they became the first band in country music history to have a debut single hit the top of the charts. Over the years, they've become known for such inspirational hits as "I Believe," "Mama Don't Forget to Pray for Me" and "One More Day."
After years of wanting to record an album of songs expressing their faith, Diamond Rio is happy to be releasing The Reason via Word Records. Band members Marty, Jimmy, Brian, Gene, Dan and Dana have crafted a project that is near and dear to their hearts.
"They showed a lot of interest in what we were doing and they wanted to get our Christmas album out first and that was exciting for us," lead vocalist Marty Roe says of A Diamond Rio Christmas: The Star Still Shines, which hit stores last holiday season.
"We're all believers. We always have been," Roe continues. "I think our music reflected that somewhat, trying to be positive in what we do. A lot of our songs reflected that part of who we are, but this was a little different—actually [being] able to say in a stronger voice what our hearts are about. We have a story to tell about some struggle and about some victory and some things that have happened in our lives."
Instead of recording a collection of hymns or previously recorded classics, Diamond Rio opted to write new songs.
"When you are talking about faith and your spirituality, your connection to God, it felt less genuine to let other people speak for us," Jimmy Olander tells GospelMusicChannel.com. "So we've gone to great efforts to try to make sure we've written a record that's from the heart. These songs share what we believe in. This is who we are."
The title track was inspired by Roe's battle with vocal problems that nearly derailed the veteran band's career.
"It's a well-written song that applies to everybody, but it really was Marty's story that brought that song," says Gene Johnson. "It's a song about second chances and a song about surrender. You have to let things go into God's hands. You have to surrender all those arrogant feelings that we pretend we don't have sometimes, but they are there. When I hear that song, I hear it not just as Marty's story, but I think it will fit into most everybody's life. Good songs do. They just don't apply to one thing, they apply to a broad range of things."
The poignant "Into Your Hands" was also inspired by Roe's struggles. "This song very much reflects the theme of the record," Olander relates. "This song that we wrote with Chris Eaton is [saying] 'Man, I'm turning it all over to you. I'm giving it up. What I need and where I am, it's all in your hands—who I've become and where I will go from here.'"
Working with a vocal coach helped Roe get back on track, but he admits it was a scary situation. "I could still sing, but I couldn't hit the notes that I could hit in the past, and my accuracy, pitch and things like that weren't very good," he says. "The rest of my partners were having to deal with it too and they obviously began to bring it to my attention on a regular basis and it was a good conversation. I was kind of in denial for a little while. Then like a batter in a slump, all of a sudden [I just felt] like I couldn't do it anymore. It brought me to a point of kind of surrender."
Have something to say about this article? Leave your comment via Facebook below!
advertise with us
Example: "Gen 1:1" "John 3" "Moses" "trust"
Advanced Search
Listen to Your Favorite Pastors