Diamond Rio: Reason Enough
Deborah Evans Price, Senior Music Editor, GospelMusicChannel.com
Thursday, November 26, 2009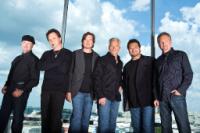 Roe admits he was afraid he wouldn't ever get his voice back. "I felt like maybe I'd squandered my gift," he confesses. "There was a lot of prayer and just a lot of soul-searching. Then I went to this other vocal coach, Diane Sheets, and she's a believer. Things started to turn around immediately. I learned to take care of gifts that you have. I can't be more than what God made me to be and a singer is it."
Other songs on the album provide a look into other experiences in the band members' lives. Dana Williams wrote "What Are We Going to Do Now" after the death of his pastor.
"He had meant so much to our church," he says. "What were we going to do now? Then it hit me, we're going to keep doing what he's preached for 20 years. It ain't about him. It's about God and about us being faithful and us staying on the path and bringing people to the Lord."
Dan Truman penned "Moments" with Don Pfrimmer.
"It's always a lot of fun to write with Don," Truman says. "He's such a great lyricist and an interesting songwriter. I had the music that I really liked and this idea [that] there are certain moments that you have with a loved one that are amazing and those are what bond you with them and get you through some of the moments that are lot tougher."
I explained to him what I was talking about, and gave him some examples. I sat and hummed through my melodies and as I hummed, he jotted down ideas for about an hour and then he said, "Okay I'll get back to you.' He had so many great ideas that the second time we got together, we didn't rewrite anything. He had truly gotten what I was going for and did it a lot better than I ever hoped, so I have to hand it to him."
In addition to the new CD, Diamond Rio fans will be happy to know Thomas Nelson has just published Beautiful Mess: The Story of Diamond Rio, written by veteran Music Row journalist Tom Roland.
The band will be hitting the road this fall and shows no signs of slowing down. Just what keeps them going?
"I've been in the band 22 years," says drummer Brian Prout. "Jimmy, Marty and Dan have been together since I believe 1984 or 1985. A year after I joined the group, that's when Gene Johnson came in and the last personnel change was in '89 when Dana Williams joined the group, so we've been in our form right now going on 20 years.
"We don't know how to do anything else," he says with a warm laugh. "This is what we do and what we've always done. We still enjoy it."
About the Writer
Deborah Evans Price has covered Christian/Gospel music for Billboard magazine since 1994. She also contributes regularly to Country Weekly, CMA Close Up, Devo'Zine, Christian Single, HomeLife, BMI Music World, and other publications.
A Nashville resident since 1983, Deborah has held editorial posts at Radio & Records, Country News, American Songwriter and Billboard. Amy Grant, Trace Adkins, Brad Paisley, Charlie Daniels, 3 Doors Down, Third Day, Don Henley, Bon Jovi, Chris Rice, Sandra Bullock, Mercy Me, Alan Jackson, Smokey Robinson, Carrie Underwood and Steven Curtis Chapman are among her many interviews. Additionally, she's a sought-after music industry analyst who has been interviewed on CNN, MSNBC, TNN, The Today Show, and ABC PrimeTime Live, among other outlets.
Deborah is a member of the Gospel Music Association's board of directors and a graduate of Leadership Music. She resides south of Nashville with her husband, Gary, and 19-year-old son Trey.

© 2009 GospelMusicChannel.com. All rights reserved. Used with permission.
**This interview first published on November 26, 2009.
About Gospel Music Channel
Gospel Music Channel is the fastest-growing network in television and can be seen in more than 40 million homes on various cable systems around the country and on DIRECTV on channel 338. For more information, visit www.gospelmusicchannel.com.

Check out all of the Diamond Rio music videos at Godtube.com!
Have something to say about this article? Leave your comment via Facebook below!
advertise with us
Example: "Gen 1:1" "John 3" "Moses" "trust"
Advanced Search
Listen to Your Favorite Pastors