FFH: The Ties That Bind
Lizza Connor, CCM Magazine
Thursday, November 11, 2004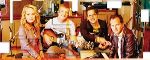 Nashville's The Castle recording studio hearkens back to the Middle Ages with its imposing grey stone structure, sprawling green front lawn and wooded area behind. Coming up the long, winding drive, one almost expects to see armored knights on horseback guarding the entryway. Strangely enough, local legend has it that famous Chicago gangster Al Capone originally built it as a hideout — his half-way point between Chicago and Florida.
Rounding the corner to park your car, however, sets The Castle in a contemporary context. An elaborate alarm system clocks your presence, in place, no doubt, to protect the pricey recording gear used recently by country star Brad Paisley and too many Christian artists to count. Land Rovers and Fords line the perimeter, and a basketball court has now eclipsed the parking lot. Cigarette butts and empty Coke cans are evidence of the hours logged and the music created here.
This Tuesday morning, Essential Records act FFH is gathered to shoot a promo DVD to accompany its new record, "Still the Cross," due out this month. Band leaders/husband-wife duo Jennifer and Jeromy Deibler are bleary-eyed from yesterday's long airplane ride followed by a late night with their 1-year old, Hutch.
However, after a session with the band's stylist, professional hair and makeup in place and trendy rock-star attire on, the two look fresh and ready for their close-ups. In between takes, they take time to chat about their new record. The interesting thing that emerges from speaking with the Deiblers, bassist Brian Smith and guitarist Michael Boggs is not quite what one would expect from the group with seemingly endless energy. While we did discuss the album's 10 tunes (all co-written by band members), the producers (FFH's longtime friend Scott Williamson and Mark Miller) and its sound (catchy pop/rock fans have come to expect from the band), these guys let us in on what really goes into making the band. And it's not your average VH1 special.
Maybe it's because they are all, self-admittedly, exhausted — from babies, touring and recording — that they are bare-it-all honest today. But it's stuff they want us to know. Like, for instance, that while life as a best-selling Christian artist has its perks ("It's allowed me to buy a house," says Boggs.), it's also just another day at work sometimes. And there are days they just don't want to go. After a year of immense change, including new additions to the families and the passing of loved ones, "The only way we would be doing this is because we are supposed to, that we were called to it," Jeromy says.
Making the Band
FFH credits its beginnings nearly 13 years ago, when Jennifer, Jeromy, Smith and former member Steve Croyle began playing together. The band didn't sign its record deal until nearly six years later. Croyle departed shortly thereafter, and Boggs stepped in. And that's when FFH really started taking shape, Jeromy says.
On early, independent records ("Called a Christian," 1996, and "One of These Days," 1998), the band members employed top-notch, technical studio musicians to help round out the sound as they worked to improve their own musical chops. "When we first came to Nashville in 1998 and watched how the whole studio thing worked, it was intimidating. We realized that we couldn't play our songs and make them sound radio-ready. My background was more piano-based; Brian had just picked up the bass. We went from a group of singers to a 'band.'"
The miles logged playing live shows forced FFH to sharpen its act. "Ready to Fly" (2003), its previous album, served as the rehearsal. The band had decided that, for the first time, the core group would play the bulk of the songs; and studio musicians would be used for "ear candy' only," Jeromy says.
Have something to say about this article? Leave your comment via Facebook below!
advertise with us
Example: "Gen 1:1" "John 3" "Moses" "trust"
Advanced Search
Listen to Your Favorite Pastors