Hawk Nelson's "End of the World" Keeps Getting Better
David McCreary, CCM Magazine
Tuesday, May 16, 2006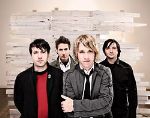 Also adding to the heavier sonic output these days are the group's newest members, guitarist Jonathan Steingard and drummer Aaron "Sqwid" Tosti, a former member of multi-genre act Pax 217. According to Dunn, previous bandmates Dave Clark and Matt Paige left Hawk Nelson to pursue other interests. "Both guys were about to get married and decided they needed to be with their wives rather than hanging out with us," Dunn explains. "Being away from friends and family is difficult, but we feel God has called us to do it."
Sometimes personnel shifts can be devastating to a new band, but Hawk Nelson seems to be taking it in stride. Dunn says Steingard, 23, and Tosti, 22, are "super-talented players" who make him want to be a better musician. Biro agrees: "We're a stronger band today because Jon and Aaron have so much to offer. It's also cool that we all have different musical influences that we bring to the table. My favorite band is Goldfinger; Jonathan is into U2 and other types of Brit-rock; Aaron is into alt-rock and underground stuff. All that diversity helps shape our overall sound."
When it comes to the band's new disc, a collection of decidedly tuneful, yet hard-charging, songs reveals tremendous artistic growth. Tracks like "The One Thing I Have Left" and "Everything You Ever Wanted" showcase catchy melodies and buoyant, yet angst-filled, vocals resembling bands such as Simple Plan, Good Charlotte and MXPX. 
The siblings who comprise Columbia/INO buzz band The Jonas Brothers were among the first to snatch up a copy of "Smile." Co-lead vocalist Nicholas Jonas gives props to Hawk Nelson for "making music for God." And he's enthused to endorse "Smile." "It truly rocks!" he says. "And it's great because it's relevant to teenage lives today." 
Hawk Nelson offers some pleasant surprises on "Smile," including Biro's favorite cut, "The Show," which features guest vocals from a barbershop quartet straight from the literal streets of Seattle, the same city where "Smile" was recorded. Biro explains: "We were down at Pikes Marketplace, and there were these homeless guys singing and trying to make a few bucks, so I approached them about being on the record. They're called Brother Willie and the Market Crew, and they came in the studio and just nailed it!"
While much of the album has a feel-good vibe, other selections contain messages of solace. Piano-driven ballad "Zero," for example, addresses the delicate subject of suicide. "It's about a friend and former co-worker of mine who was a great athlete and had a lot going for him," Dunn shares. "But somewhere along the line he got depressed and took his own life. That really shook me."
Dunn says songs such as "Zero" give Hawk Nelson a unique platform from which to reach out to young people who might not otherwise respond. "Kids at shows tell us all the time that they are struggling and hurting," he says. "They need help, but often they don't want to talk to their parents. For whatever reason, a lot of teens feel like we are on the same wavelength. They pour their hearts out to us, and we try to help them realize that they have a greater reason and purpose for living. Every person has the capacity to be a world-changer for God."
Taking nothing for granted, the guys in Hawk Nelson appreciate the good fortune and experiences they've shared over the last few years. The challenge to soak it all in as they try to live in the moment is met with an attitude of thrilled expectancy tempered with humility.
"Every day I wake up, I realize that we are so undeserving of this," Dunn confesses. "We're just like every other band that's trying to get our music out there, but God's favor is on us. He keeps opening doors for us and blessing us with awesome opportunities, and we're going to keep taking them as long as He gives them to us."
With the members of Hawk Nelson, the more you get to know them and their music, the more you share the excitement for what's coming next.


© 2006 CCM Magazine.  All rights reserved.  Used with permission.   Click here to subscribe.



Have something to say about this article? Leave your comment via Facebook below!
advertise with us
Example: "Gen 1:1" "John 3" "Moses" "trust"
Advanced Search