Joy Williams: Beautiful Redemption
Christa Farris, CCM Magazine
Tuesday, June 21, 2005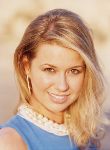 While she's probably the most content she's ever been both personally and professionally, Joy Williams doesn't smile nearly as much as she used to. And it's not because of some secret, underlying unhappiness. Or a futile attempt to front some fake angst in search of edgy street cred and a new fan base. Instead, it's the result of life experience, namely the four-year difference between being 18 and 22.
It's something that Britney Spears was forced to do after "Baby One More Time." Ditto for Christina Aguilera on "Genie in a Bottle" and Jessica Simpson after "Sweet Kisses." Even Christian music's own Rachael Lampa and Stacie Orrico had to undergo the occasionally awkward transformation process of growing up stylistically after a successful start as a teen artist. And that particular challenge was something Joy took very seriously as she contemplated the artistic statement she hoped to make with the release of her third album. 
But even more pressing than what direction she'd aim for sonically — although the soundtrack has also progressed in conjunction with her evolved musical tastes — it was what she was saying that was far more important to her. Instead of relying on a pool of talented songwriters who'd craft something she'd relate to enough to sing with conviction, it was her desire to dig deep and get personal that paved the way for "Genesis" (Reunion), not to mention a new resolve with which she approaches life and ministry.
 
No More Plastic Smiles
Early in her career as she promoted her self-titled debut, one couldn't help but notice Joy's smile, something that almost served as the California native's trademark — much like Julia Roberts' toothy grin. "I've definitely been that person with plastic smiles, like the first time you and I ever met for an interview," Joy recalls. "I was so scared of not being liked that I just grinned and grinned and grinned. It wasn't like I was even scared of you; I was just scared that someone wouldn't like me."
And in the music business, a business where being liked fuels your very livelihood, Joy also found herself insecure and questioning if she even really had anything to share with an audience.
"I'd been so afraid to go out and really take some leaps and let myself get out there," she offers. "But when I was reading the Gospels, I was really transfixed by how Christ engaged people — just the fact that He sat down with people and didn't necessarily put a burning iron there and twist it to get the pain out. People were drawn to Him and felt comfortable to ask questions. In writing an album, I wanted to do that. I wanted to ask the questions. I didn't want to write it necessarily from an overtly evangelical perspective; I also didn't want to have songs with the complete answers in them."
 
A Messy Kind of Existence
When putting her fingerprints on the songwriting of "Genesis," Joy claims she didn't purposely set out to write in any particular way. What she did know, however, is that the project would focus on matters of the heart, something inspired by her own questioning moments.
"I wrote about being frustrated about not hearing from God while I was praying and just being like 'What have I done? Why are my prayers ricocheting off the wall?'" Joy says. "And my 26-year-old sister has just had a brain aneurism and just got re-diagnosed, possibly with a brain tumor. And my grandma is in the hospital. I've had one friend who told me that she's getting a divorce, and there is just so much in life that isn't formulaic. And it's painful; life is messy, but that's what makes it meaningful. And I think I've seen God use the messier parts of me and stretch me in those places when I thought I had it all together.
Have something to say about this article? Leave your comment via Facebook below!
advertise with us
Example: "Gen 1:1" "John 3" "Moses" "trust"
Advanced Search
Listen to Your Favorite Pastors