Joy Williams: Beautiful Redemption
Christa Farris, CCM Magazine
Tuesday, June 21, 2005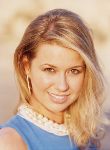 "I wanted to convey the messy aspect of living life with Christ because it's not always infused with happiness. It's not always the highs. It's walking with Christ when you don't necessarily feel His presence. It's trusting in God when your sister possibly won't make it through the night and giving God your anger when you're stressed out about making a deadline — things like that. I wanted to write that way."
But while she readily acknowledges life's messy moments, she's also quick to acknowledge the most recent instances where God has shown her something special in the chaos, something Joy refers to as "eye kisses."
"Seeing a baby giggle is new to me these days and hearing my sister on the phone. I don't take things like that for granted anymore, and that probably wouldn't be the case if I'd not seen the other side of things."
Saying Hello to Dating
Another something — or should we say someone — that has radically shaped Joy's perspective and lyrical approach is her husband, Nate, whom she married in June of 2004. As Joy relaxes in her overstuffed couch in the cozy Franklin, Tenn., home they share, she laughs as she recalls what circumstances led to the couple's unexpected meeting, particularly her one-year, self-imposed sabbatical from dating.
"Before I met Nate, I felt this insatiable need to go out and discover the world. A year before we met, I traveled to Europe and hung out in New York City by myself. I felt like this was a great adventure that God and I were having for the first time in my life. And I was feeling very okay with it just being God and me," Joy muses. "I think everyone goes through an über-zealous thing of 'I don't need anybody; it's just God and me!' And for a season, it was cool that way. But obviously you have to come back to the middle. I found that my desire for just God and me was a self-protection mechanism. It was very easy to stand behind the name of Jesus and just say that I was spending time alone with Him because I wanted to spend time with Him, when really I was so scared of connecting with anybody ever again because it hurt so bad when it didn't work out before."
As Joy continued to "kiss dating goodbye," several of her friends randomly called her over the course of the next few months to let her know that they'd met her "Mr. Right" while eating at Carrabba's, an Italian restaurant in Franklin where he waited tables. One friend in particular told her, "Ok, I know that you're all about Jesus right now, but when you want to branch out and actually get relational with people again, I think you need to meet this guy named Nate. He just really reminds me of you."
After repeatedly hearing similar sentiments, Joy says she finally was willing to consider something romantic after her year without dating had passed. "By this time, I was like … okay, maybe … I'm a blonde by bottle, but maybe there is some merit to this. So if he's around when my year is up, I'll have to see."
After Joy returned from working on music in Holland and Germany, her friends surprised her by taking her to dinner at Carrabba's. "I had an inkling that they were going to take me there," Joy recalls. "When we pulled up, I was like, 'We are so not friends anymore!' As we walked in the restaurant, my heart was beating, and no one had given me — nor had I asked for — a physical description of him. But when we got in, all the waiters were in the back with white shirts, black ties and white aprons, and I pointed at someone and was like 'That's Nate, isn't it?' And it was him, standing in the back. And he waited on our table that night, ever so conveniently.
Have something to say about this article? Leave your comment via Facebook below!
advertise with us
Example: "Gen 1:1" "John 3" "Moses" "trust"
Advanced Search
Listen to Your Favorite Pastors