Leigh Nash: True Blue
Dave Palmer, CCM Magazine
Tuesday, November 07, 2006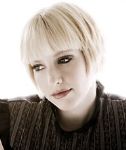 Leigh Nash loves the '70s TV show "Little House on the Prairie."

She has blogged about this affinity as well as jibed listeners to her podcast about the fact that she has missed the show to record for them.
The former Sixpence None the Richer vocalist also loves Leonard Cohen, Peter Cetera, Spanish language love songs and the "old-timey" practice of a singer going town to town to make a case for radio stations playing her music. I've had the chance to witness all of these objects of affection with Nash, and, while none of it (save the door-to-door salesmanship) surprises me, I'm still charmed and taken off guard when they're all thrown in the mix during conversation. But first, some history. …
In the spring of 1998, I sat with Leigh Nash and her then bandmates guitarist/cellist Matt Slocum and drummer Dale Baker in what appeared to be a seldom-used conference room turned storage area at WXEG, Dayton, Ohio's alternative rock station. Sixpence's core was there to, as we called it, "conference rock." I was there as the label representative for Squint Entertainment. We'd assemble a group of station staffers, always intending (hoping really) to see the program director and music director; and the band would whip out acoustic guitar and percussion and play two to three songs, always including the new single "Kiss Me."
Some visits seemed to go well, as in St. Louis, where the alternative station and its sister Hot AC station each put the band on the air for an impromptu interview and performance. Others were not so encouraging, as with a station in Vermont that cancelled our visit without our knowledge. Faces were saved by the gracious actions of a production assistant who was a fan and who conducted a taped interview for the station's archives. A kind gesture, to be sure, but the conference rock team left The Green Mountain State tail between legs.
But Dayton was close to the norm:  the audience was mostly the ad sales team, propelled by the scent of free pizza and an implicit demand by the station manager that the band not play to an empty room while the real decision makers were rounded up. Sixpence must have done at least 50 of these visits in the course of the promotion. It was unglamorous and hardly the stuff of pop-star fantasy, much less the stuff of merely wanting to make music for a living.
Flash forward to a sunny June afternoon in 2006 at the Nash household, where Leigh is about to embark on a whole new round of "conference rock" gigs to support her full-length solo debut, "Blue on Blue" – and, to my surprise, she's looking forward to it. "It's like being a salesman I guess," says Leigh. "And it's the satisfaction of leaving and knowing, 'I just got an add!' It's real old-timey. I like the whole thing from start to finish, when I'm actually involved and going in there. It's like Loretta Lynn in 'Coal Miner's Daughter' when they're going to radio stations and, if they like you and you do a good job, they add the song. It's like a challenge that I find very satisfying, as if, at the end of the day, I had something to do with it. I don't know what it is – I guess it's salesmanship. Maybe I'm a good salesman."
Reflecting on the ubiquitous place that Sixpence's hits "Kiss Me" and "There She Goes" maintain on radio to this day, one must give a nod to Nash's sales prowess. While all of the usual music business machinations were involved, Nash & Company's musical acuity, dogged work ethic and genuine kindness won over scores of music and program directors; and so it is hard not to believe that this new chapter of Nash's musical career will yield some of the same broadcast omnipresence. And that would be fine with Nash, though not for the usual reasons. "I don't want to be worshipped or idolized; I just want to be in your home. Someday, I'd like to be like Chicago and Peter Cetera. I just assume that everybody, like me, wants to turn that stuff up. I want to be that girl – I want to be on the radio in 15 years, 20 years – multiple times. And have people be happy when they hear it."
Have something to say about this article? Leave your comment via Facebook below!
advertise with us
Example: "Gen 1:1" "John 3" "Moses" "trust"
Advanced Search
Listen to Your Favorite Pastors