Leigh Nash: True Blue
Dave Palmer, CCM Magazine
Tuesday, November 07, 2006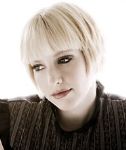 Nash's "Blue on Blue" album, which hit stores in late summer, offers several chances for radio programmers to take her up on that invitation. (The first comes in the form of lead single "My Idea of Heaven," which is going for adds at press time.) Nash's trademark voice and lilting melodies are tailor-made for life's soundtracks. And the production flourishes of Pierre Marchand (Sarah McLachlan, Rufus Wainwright) offer a work that holds both mass accessibility and off-center surprises that can stand the test of time. While those characteristics are shared with Nash's former band, "Blue on Blue" is a work all her own, a flag planted solidly in her own artistic terra firma.
What's more, after years of record label ups, downs, further downs and dissolutions, the album is being released on her own label, One Son Records, so named to be a totem of sorts for Nash's now 2-year- old son, Henry (and administered through her management company, Nettwerk, and their arrangement with Sony BMG Music). Her own label offers both the greatest flexibility and the most responsibility of her career, something that can both bless and curse the process. "I never in a million years thought that I could be on this side of it and be this proud of what happened [in making this record] and be this excited about it," she says. "I can imagine it working out, and I can imagine it not working out. And, if it doesn't, I'm not sure what's next; but we'll find out. But, having [One Son Records], I can do whatever I want and nobody can say "no." Everything's in God's hands, where I like to leave them. I'm in a position now where I don't know how everything's going to work. I know it's worked so far."
And, while the dissolution of Sixpence in 2004 brought its own set of unanswered questions, Nash offers few to no regrets. "When we, as a band, broke up, I had never felt more free. I think I felt really sad in one sense, but the other 90 percent I felt like I was free. I'd always wanted to spread my wings and see what I could do. And I immediately knew. I knew that I wanted to do a record on my own. I was so excited, and I was already thinking about everything about it."
Asked about the constant insecurity that accompanies the life of a working artist, particularly as a new album cycle begins, Nash communicates a simple, faithful outlook tempered by years of living this reality. "'Say your prayers and do the next thing,' that's my mantra – have you heard that before? Have you read that? My mom always tells me that, but, you know, it just makes perfect sense. I just think we get so ahead of ourselves, and that's where I am right now, saying my prayers and then putting one foot in front of the next. Whatever that is – take a shower, wash your clothes, do the dishes.
"You have to put your money where your mouth is. That's where you're cashing in on that trust that we all say we have. And I think God honors that trust and will catch you when you fall, and, sometimes, He lets you fall. But it's active trust – not passive trust ... I believe that the Word is true and that He's already worked it out, and our job is to be as godly as we can by staying in communion with Him and praying that we're in His will and doing the right thing. And, then, just do the next thing, whether it's doing the laundry or making that phone call."
Nash's simple and humble faith is one that often confounded the evangelical subculture that expressed desire for a more explicit public statement. Yet, anything of the sort would have been out of place for Nash and her bandmates, who let their music and lives do the talking. Still, there were amazing opportunities, such as the band's appearance on "The Late Show with David Letterman" where Nash was invited for some on-air chat time with Dave (a rarity for artists). When asked about the origin of the band's name, Nash gave a simple, charming and straightforward explanation of a passage in C.S. Lewis' fine "Mere Christianity" tome. It was the sort of moment so subtle and tender that it seemed to catch even Letterman off guard. Such are the opportunities of humility and graciousness one finds hard to imagine from more forceful or aggressive communicators.
In a business so filled with outsized egos from even the most modestly successful, Nash's down-to-earth sensibilities are a pure pleasure. "Blue on Blue" is a confident and life-filled album with far-reaching potential. Nash is preparing for her barnstorming radio tour followed by a fall tour with Jars of Clay to take the songs out to audiences old and new. Beyond that lie the hopes of radio domination, more touring and a long career ride of artistic chances and opportunities. Being around Nash brings a sense of both unbounded optimism and well-grounded principles assuring that whatever is in store will be met with the same determination, faith and strength that have accompanied her thus far.


© 2006 CCM Magazine.  All rights reserved.  Used with permission.   Click here to subscribe.




Have something to say about this article? Leave your comment via Facebook below!
advertise with us
Example: "Gen 1:1" "John 3" "Moses" "trust"
Advanced Search
Listen to Your Favorite Pastors