Par for the Course
Christa Farris, Contributing Writer
Wednesday, September 17, 2003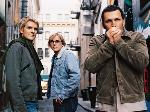 Like most great success stories, Paul Colman Trio's  game got off to a somewhat rocky start (in America anyway). But now, the reigning New Artist of the Year has emerged as Christian music's hottest Aussie import since Newsboys and Rebecca St. James. And the streak shouldn't be over any time soon.…

He may not putt as proficiently as, say, Tiger Woods, but Paul Colman is the mini-golf aficionado this particular Tuesday morning at a scenic par three course just outside of Nashville. He's easy-going with his approach, but this Australian native is also the kind of guy who isn't shy when it comes to a little healthy competition.

In fact, just minutes after we pick up our putters and select a golf ball color of our choice, Colman boldly proclaims he's going to win today's mini-golf tournament. And that's before we've even made it to the first hole.

While some could perceive his claim as a little cocky, neither of his band mates — bassist Grant Norsworthy with his fashionable rock-star attire and quick wit nor the quiet, thoughtful drummer Phil Gaudion — contest this assertion as we tee off. With his charismatic personality, charming sense of humor and penchant for being polite (he even brushes the fallen leaves off the green to avoid any potential pitfalls for his fellow players), Colman is a front man people can't help liking — a quality that's certainly served him well both on and offstage.

A Man with a Plan

Unlike the "American Idol" phenomenon or the boy-band era, where artists became media hype in a matter of weeks, PC3's road to a record deal wasn't exactly an easy one. This less-traveled journey for the group began in 1998 with Colman, a successful solo act at the time with two critically acclaimed projects to his credit. But after one independent solo tour of the United States as well as some shows with Gaudion, Colman decided to forgo his one-man show for a three-piece band that included Gaudion and Norsworthy.

After solidifying the lineup, the band began touring relentlessly, playing for crowds in every kind of venue imaginable, including its first gig for 3,000 people at a Melbourne Zoo. However, lacking a Christian music scene as vibrant and viable as the one in the United States, the PC3 members knew they couldn't play in schools, saloons, hospitals, weddings and smelly zoos forever, although they appreciated every opportunity.

"There are plenty of artists in Australia who have chosen to perform Christian music, and [for them], following Jesus takes the form of singing in high schools, doing low-budget records and living in the bread line," Colman says. "But I think anyone who is ambitious with trying to make music a ministry also wants to make it a career. We got to a point where we could not afford to do this in Australia anymore."

With a devout following in the "land down under," four successful independent projects, a notorious audience rapport during live shows and awards including Artist of the Year on The Rock Across Australia charts, Colman began turning his attention to U.S. turf.

But even with these impressive credentials, breaking into the highly competitive U.S. market wasn't simple. In fact, the former schoolteacher says, laughingly, that meeting with managers, record label execs and booking agents was a grueling process that led to his "persistent widow syndrome," a nod to the parable of the widow and her coin in the Bible.

Colman knocked on several doors in Nashville without many promising answers, even facing rejection six different times from the same record label. But with a hearty dose of divine intervention and the acquisition of an important cell phone number, all of that slowly changed. "I had been coming to Nashville for three or four years trying to get the band signed, trying to get people interested. I laid a lot of groundwork, but I did not realize how much work that would be," Colman recalls.

Have something to say about this article? Leave your comment via Facebook below!
advertise with us
Example: "Gen 1:1" "John 3" "Moses" "trust"
Advanced Search
Listen to Your Favorite Pastors