Pillar's Day of Reckoning
John J. Thompson, CCM Magazine
Friday, December 15, 2006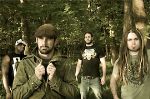 For eight years, Pillar has been honing its no-frills modern rock with relentless touring, aggressive recording and frequent re-invention. The band has, quite literally, seen it all.
After an auspicious debut on the late-'90s rap/core scene, Pillar scored big with its anthemic crossover benchmark album, "Fireproof" (Flicker), with a title track that dominated Christian rock radio, festival stages and youth rooms and earned the band a major-label makeover when MCA re-released the project into the general market. Big league mainstream tours and festivals followed, surrounded by high hopes that Pillar might just be the "next P.O.D."
Though the mainstream hype quieted, the band plowed on. Pillar released an acoustic and partly live EP that completely changed musical gears and, then, followed with 2004's blistering and brilliantly realized "Where Do We Go from Here." More hit singles in the Christian market (and a moderate hit at mainstream radio), the band's best album sales ever (250,000-plus for that album alone), a rabid fan-base and an absolutely frenetic live show all backed up a further distancing of Pillar from its rap-ish roots.
Front man Rob Beckley became a convincing singer, and the band logged hundreds of shows in churches, Christian clubs, bars, schools and festivals. The band released a second EP earlier this year that granted a sneak peek at the album Pillar's been working on for nearly two years – "The Reckoning," which released in the fall.
While certainly disappointed by its failure to really launch in the mainstream, the band never missed a beat. "We're still working our butts off," Beckley insists. "It's just the way the cards fell for us. We're not upset about the past, but that's kind of what this record is about – "The Reckoning," the settling of accounts. We needed to settle that particular score in our life."
When such accounts have been settled, the next step, of course, is moving on. And that's exactly what Pillar is doing. "I'm excited for where Pillar is headed," says one of the band's heroes, P.O.D. front man Sonny Sandoval. "I love the guys and respect how they've built [their career] with real fans."
From the sound of "The Reckoning," by far Pillar's most intense, diverse, mature and confident at-bat, the band members' faith is strong. "We never wanted to be outside of the Christian market," Beckley explains, "And we never wanted to be in it! When we first started, we didn't know it even existed. We used to play all our shows in bars around towns in western Kansas, and, then, we started playing churches, too. And people said we should be a 'Christian band.' I had just become a Christian, so I thought, 'Sure, why not?' From that point on, we never set out to go into the mainstream. Those are just the doors that were opened, and then they shut very quickly."
While the new record certainly sports everything sonically, lyrically and compositionally that the mainstream modern rock world seems to demand, its fate seems both unknown and of little concern to the band. "Collectively, as a band, we just don't care anymore," Beckley states without a hint of someone trying to convince himself of something. "If the mainstream grabs hold of this record and it can touch people's lives, that's awesome. If not, I'm not going to lose any sleep over it. We're a mature band. We've been around long enough to know the game. I'm going to wake up tomorrow and be just as content as I am today, regardless."
Have something to say about this article? Leave your comment via Facebook below!
advertise with us
Example: "Gen 1:1" "John 3" "Moses" "trust"
Advanced Search
Listen to Your Favorite Pastors